PELATIHAN MEDIA PEMBELAJARAN ANIMASI HURUF DAN ANGKA MENGGUNAKAN MICROSOFT POWER POINT DAN KINEMASTER SEBAGAI SOLUSI PJJ PADA GURU TK DI KABUPATEN NGAWI
Nur Dwi Sukmono

STKIP Modern Ngawi

Pitriani Pitriani

STKIP Modern Ngawi

Dhevi Agustinawati

STKIP Modern Ngawi
Abstract
During Distance Learning, the teacher's time to be able to meet students is very limited, so the solution for this is to create learning media. Of course the learning media must be in the form of multimedia (audio-visual) so that parents can use it to do learning with their children.
The purpose of this Community Service is to create animated letters and numbers using Microsoft Power Point and Kinemaster. Training aimed at early childhood educators. Target outcomes expected kindergarten educators are able to make a simple animated video to learn to recognize letters and numbers.
The number of participants in this training was 63 kindergarten teachers who were conducted online in Ngawi District, Ngawi Regency. This Community Service Program includes training to make animated letters and numbers using power points. Activities carried out during the two days of the December 4 and January 7, 2021.
The result of this Community Service is that they can make animated videos of letters and numbers and develop them into learning media. The average number of mastery of the practice of making animated videos of letters and numbers reached 93.4 percent. Qualitatively, the participants were able to make animated videos very well.
References
Adnyana, P. B., Citrawathi, D. M., Putu, N., & Ratna, S. (2020). EFEKTIVITAS PELATIHAN PEMBUATAN FLIPPED CLASSROOM VIDEO DENGAN SMARTPHONE DAN APLIKASI KINEMASTER ( PROGRAM PKM ). 1758–1765.
Agustiningsih, A. (2015). Video Sebagai Alternatif Media Pembelajaran Dalam Rangka Mendukung Keberhasilan Penerapan Kurikulum 2013 di Sekolah Dasar. PEDAGOGIA: Jurnal Pendidikan, 4(1), 50. https://doi.org/10.21070/pedagogia.v4i1.72
Daud, R. M. (2019). Sistem pendidikan Finlandia suatu alternatif sistem pendidikan Aceh. Indonesia: Fakutas Tarbiyah Dan Keguruan UIN Ar-Raniry, 53(9), 21–36.
Hasanah, S. U., & Anum, A. (2020). PENINGKATAN KEMAMPUAN MEMBUAT VIDEO. 373–376.
Kemdikbud. 2021. Data Kemdikbud. Diunduh pada 21 Februari 2021 di https://referensi.data.kemdikbud.go.id/index21.php?kode=050900&level=2.
Khaira, H., Pascasarjana, P., & Medan, U. N. (2020). PEMANFAATAN APLIKASI KINEMASTER SEBAGAI. 39–44.
Metrojatim. 2021. Dinas Pendidikan Ngawi Semester Genap. Diunduh pada 21 Februari 2021 di http://www.metrojatim.id/2021/01/dinas-pendidikan-ngawi-semester-genap.html.
Microsoft. 2021. Ubah Presentasi Anda Menjadi Video. Diunduh pada 24 Februari 2021 di https://support.microsoft.com/id-id/office/ubah-presentasi-anda-menjadi-video-c140551f-cb37-4818-b5d4-3e30815c3e83.
Perdana, A. (2019). Generasi Milenial dan Strategi Pengelolaan SDM Era Digital. Jurnal Studi Pemuda, 8(1), 75. https://doi.org/10.22146/studipemudaugm.45287
Putri, A., & Hastuti, H. (2020). Pengembangan Media Video Pembelajaran Sejarah yang Memuat Materi Kronologis. Kronologi, 2(4), 15–24.
Yudiyanto, Y., Hakim, N., Hayati, D. K., & Carolina, H. S. (2020). Pengembangan Video Pembelajaran IPA Terpadu pada Tema Konservasi Gajah Berkarakter Peduli Lingkungan. Journal of Natural Science and Integration, 3(2), 187. https://doi.org/10.24014/jnsi.v3i2.8959
Yuwono, P. H. (2017). Pengembangan Intelegensi Musikal Siswa Melalui Pembelajaran Musik Di Sekolah. KHAZANAH PENDIDIKAN Jurnal Ilmiah Kependidikan, XI(1), 25–38.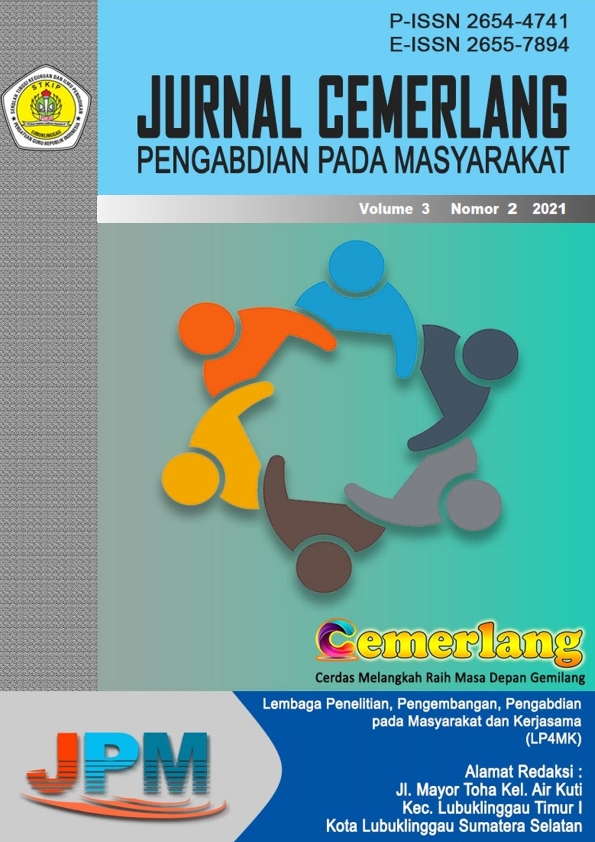 Jurnal Pengabdian Masyarakat by http://ojs.stkippgri-lubuklinggau.ac.id/index.php/JPM is licensed under a Creative Commons Attribution-ShareAlike 4.0 International License.