PEMBUATAN DOKUMEN PERANCANGAN INDUSTRI KECIL PENGOLAHAN BONGGOL JAGUNG BAGI PETANI JAGUNG RACAKALONG, SUMEDANG, JAWA BARAT
PREPARATION OF PLANNING DOCUMENTS FOR CORN COMB PROCESSING SMALL INDUSTRY FOR CORN FARMERS RACAKALONG, SUMEDANG, WEST JAVA
Hendang Setyo Rukmi

Institut Teknologi Nasional

Andry Masri

Institut Teknologi Nasional
Keywords:
Analisis Kelayakan, Industri Kecil, Pengolahan Bonggol Jagung
Abstract
Sumedang Regency is known as one of the important corn production center in West Java province. Utilization of corn cobs is needed to improve the local economy and minimize corn harvest waste which could provide added value for the community. Community service was carried out to create a small industry design document for corn cob processing for corn farmers to be established in the Rancakalong Region, Sumedang Regency. The small industry design document for corncob processing covers marketing aspects, human resources aspects, technical aspects, legal and environmental aspects, and financial aspects. This document is very much needed by the community as a reference in minimizing the risk of establishing a small corncob processing industry. This project is part of the Matching Fund program from the Ministry of Education and Culture of the Republic of Indonesia under the Kedaireka platform which is based on the results of research on the establishment of a small corncob processing industry in Bandung.
References
Chairunnisa, C., dan Ciptandi, F. (2018). Pengolahan Material Limbah Bonggol Jagung Sebagai Produk Aksesoris Fesyen, Jurnal ATRAT, 6(3), 261-271.
Djuwendah, E., Hapsari, H., Deliana, Y. dan Suartapradja, O. S. (2017). Potensi Ekowisata Berbasis Sumberdaya Alokal di Kawasan Waduk Jatigede Kabupaten Sumedang. Jurnal Ilmiah Pertanian, 5(2), 51-59.
Ediyansyah, M., dan Masri, A. (2021). Proses Pemanfaatan Modul Bonggol Jagung Berbentuk Balok Menjadi Material Utama Desain Lampu. Productum: Jurnal Desain Produk (Pengetahuan dan Perancangan Produk), V(1), 53-58.
Evrianda, Z. A., dan Ismail, D. (2020). Perancangan Tableware dengan Material Olahan Bonggol Jagung. Idea Jurnal Desain, 19(1), 27-32.
Ismail, D. (2014). Sistem Produksi Sederhana Pengolahan Bonggol Jagung Sebagai Bahan Baku Dalam Perancangan Produk. Jurnal Itenas Rekarupa, 1(2), 20-28.
Mahardika, dan Dewi, F. R. (2014). Analisis Pengembangan Usaha Pemanfaatan Limbah Bonggol Jagung Menjadi Produk Kerajinan Multiguna. Jurnal Manajemen dan Organisasi, V(3), 215-226.
Setiawan, Y.A., dan Bernik, M. (2019), Penyuluhan Dampak Penggunaan Pestisida dan Pengendalian Kualitas Produk Bagi Masyarakat Desa Pamekaran, Sumedang, Jawa Barat. Jurnal Cemerlang, 1(2), 26-38.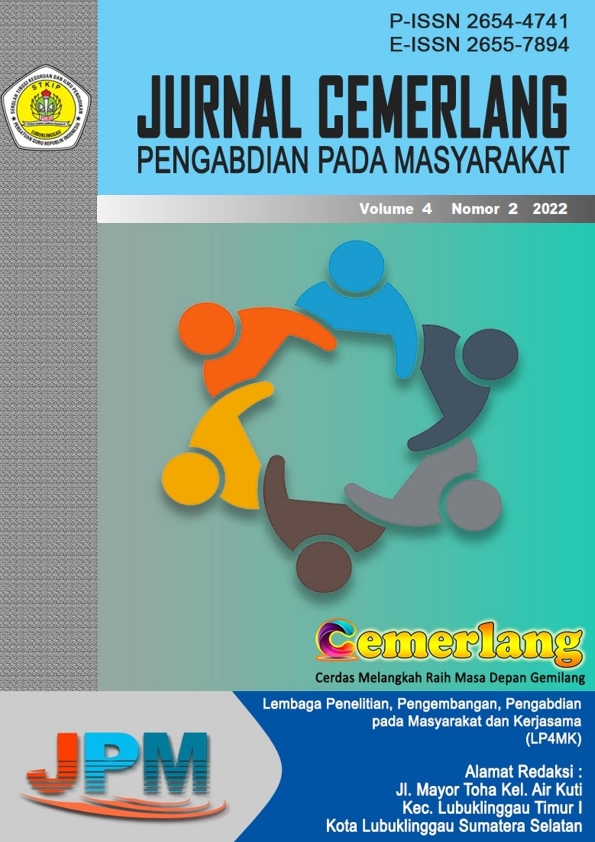 Jurnal Pengabdian Masyarakat by http://ojs.stkippgri-lubuklinggau.ac.id/index.php/JPM is licensed under a Creative Commons Attribution-ShareAlike 4.0 International License.