PENDAMPINGAN PEMBELAJARAN DENGAN PARADIGMA BARU BAGI SEKOLAH PENGGERAK TERKAIT ASESMEN PEMBELAJARAN DI UPT SD NEGERI 211 GRESIK
Ismail Marzuki

Universitas Muhammadiyah Gresik

M. Luthfi Oktarianto

Universitas Muhammadiyah Gresik
Keywords:
Learning, Sekolah Penggerak, Assessment, Primary School
Abstract
As the Merdeka Learning Campus Merdeka program was rolled out by the Ministry of Education, Culture, Research, Technology, and Higher Education, schools had to master many new things. The new things include a paradigm shift in learning, liberating education, projects to strengthen the profile of Pancasila students, differentiated learning, and learning assessments. Since the program was initiated, the Ministry has made various breakthroughs including conducting socialization, training, training, technical guidance, and mentoring. However, at the implementation level, not all programs went according to plan, because various problems were found in them. These problems include technical related issues, such as making the Education Unit Operational Curriculum (KOSP), making teaching modules, differentiated learning, and learning assessments. Regarding this problem, the solution offered is to provide assistance to educators and school principals. The implementation step is to provide assistance and workshops to them. The result is that educators gain new insights into the development of assessment instruments using a new paradigm for sekolah penggerak. The team recommends the need to make a follow-up plan related to mentoring learning with a new paradigm.
References
Haba, R. (2020). Reformasi Pendidikan Dalam Perspektif Pemerintahan Daerah. Jurisprudentie : Jurusan Ilmu Hukum Fakultas Syariah Dan Hukum, 7(1), 102. https://doi.org/10.24252/jurisprudentie.v7i1.13416

Hajaroh, S., & Adawiyah, R. (2018). Kesulitan Guru dalam Mengimplementasikan Penilaian Autentik. Elmidad:Jurnal PGMI, 10(No. 2), 131–152.

Hidayat, T., & Asyafah, A. (2019). Konsep Dasar Evaluasi Dan Implikasinya Dalam Evaluasi Pembelajaran Pendidikan Agama Islam Di Sekolah. Al-Tadzkiyyah: Jurnal Pendidikan Islam, 10(1), 159–181. https://doi.org/10.24042/ATJPI.V10I1.3729

Jayanti, U. N. A. D., Adlini, M. N., & Khairuna, K. (2020). Profil Keterampilan Menyusun Skenario Pembelajaran Mahasiswa Calon Guru Biologi Perguruan Tinggi Keagamaan. Jurnal Biolokus: Jurnal Penelitian Pendidikan Biologi Dan Biologi, 3(1), 265–279. https://doi.org/10.30821/BIOLOKUS.V3I1.720

Laksana, A. D. S., Prihatin, J., & Novenda, I. L. (2019). The Development of Collaborative Learning Cell Based on Brain-Based Learning (BBL)Model for The Junior High School Science Learning in The Agroecosystem Area. BIOEDUKASI, 17(2), 82–91. https://doi.org/10.19184/BIOEDU.V17I2.14999

Modelu, R., & Asiah, S. (2019). Manajemen Peningkatan Mutu Berbasis Sekolah (MPMBS): antara Harapan dan Realita di SMA Negeri 3 Atinggola. Al-Minhaj Jurnal Pendidikan Islam, 2(1), 128–142.

Pramono, D., Ngabiyanto, N., Isnarto, I., Saputro, I. H., & Utomo, A. P. Y. (2021). Pelatihan Penyusunan Evaluasi Pembelajaran Berbentuk Portofolio sebagai Implementasi Merdeka Belajar di Sekolah Bagi Guru SMP N 41 Semarang. Jurnal Implementasi, 1(1), 1–9.

Ritonga, M. (2018). Politics and Policy Dynamics of Changing the Education Curriculum in Indonesia until the Reformation Period. Bina Gogik, 5(2), 1–15.

Tri, D., Bambang, W., Wiyono, B., Djum, D., & Benty, N. (2019). Kepemimpinan Visioner Kepala Sekolah Sebagai Pemimpin Perubahan Dalam Peningkatan Mutu Pendidikan. JAMP : Jurnal Administrasi Dan Manajemen Pendidikan, 2(4), 181–187. https://doi.org/10.17977/UM027V2I42019P181

Turmuzi, M., Sridana, N., Sarjana, K., & Soeprianto, H. (2020). Peningkatan Kemampuan Guru Sekolah Dasar Di Gugus II Kecamatan Lembar Dalam Menerapkan Authentic Assesment Dalam Pembelajaran. Jurnal Pendidikan Dan Pengabdian Masyarakat, 3(1), 1689–1699.

Wahyuni, A. S. (2021). Penerapan model hybrid learning dalam PTM terbatas untuk meningkatkan motivasi dan hasil belajar siswa. Indonesian Journal of Educational Development, 2(3), 472–481. https://doi.org/10.5281/ZENODO.5681376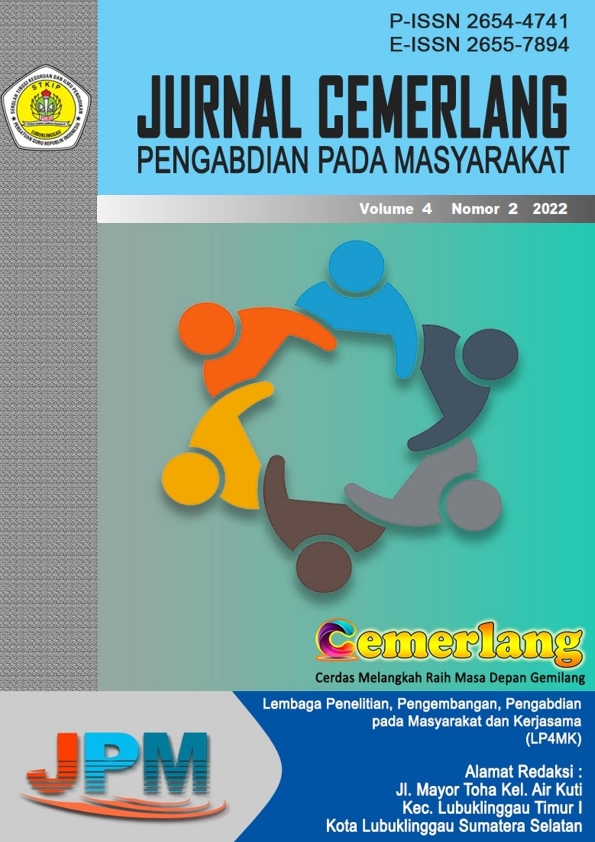 Jurnal Pengabdian Masyarakat by http://ojs.stkippgri-lubuklinggau.ac.id/index.php/JPM is licensed under a Creative Commons Attribution-ShareAlike 4.0 International License.