PENGABDIAN MASYARAKAT MELALUI PENYULUHAN FINANCIAL TECHNOLOGY DALAM MENGELOLA KEUANGAN KELUARGA PADA IBU RUMAH TANGGA DI DESA PAMEGARSARI – BOGOR
Khoirunnisa Azzahra

Universitas Pamulang, Indonesia

Baiq Fitri Arianti

Universitas Pamulang, Indonesia

Siti Chaerunisa P.

Universitas Pamulang, Indonesia

Anggun Putri R.

Universitas Pamulang, Indonesia

Irwan Setiawan

Universitas Pamulang, Indonesia
Keywords:
FinTech, family finance
Abstract
The community service activity through the counseling of Financial Technology knowledge in Pamegarsari village aims to resolve the problem of partners from the Pamegarsari Village Government, namely the large number of people affected by cases of fake transactions and online loans and online shopping fraud. To overcome these problems, we as a lecturer in the Accounting Study Program at the University of Pamulang carry out Community Service using counseling methods about the importance of Financial Technology knowledge in managing family finances. From the overall implementation of PKM can provide an understanding of Financial Technology through this counseling showed excellent results including; first the participants consisting of housewives in Pamegarsari Village welcomed positively and enthusiastically in the implementation of this PKM activity; Secondly, the increased understanding and knowledge of participants about the importance of financial technology in managing family finances is indicated by their questions and responses when conducting discussions with speakers at the time the activity took place. And third; the high expectation of participants so that the intensity of counseling or similar activities is often carried out in pamegarsari village.
References
Asosiasi Penyelenggara Jasa Internet Indonesia (APJII). 2016. Penetrasi & Perilaku Pengguna Internet Indonesia. Jakarta.

Chiu, I. H. Y. 2017. A new era in fintech payment innovations? A perspective from the institutions and regulation of payment systems. Law, Innovation and Technology, 9(2), 190–234. https://doi.org/10.1080/17579961.2017.1377912

Fatimah, Latif, Salsabila. 2019. "Pengabdian Masyarakat Menuju Desa Pamegarsari yang Mandiri Melalui Peningkatan Pendidikan" Volume 02 Nomor 02.

Gomber, P., Kauffman, R. J., Parker, C., & Weber, B. W. (2018). On the Fintech Revolution: Interpreting the Forces of Innovation, Disruption, and Transformation in Financial Services. Journal of Management Information Systems, 35(1), 220–265. https://doi.org/10.1080/07421222.2018.1440766

Kitchenham, B., & Charters, S. (2007). Guidelines for performing Systematic Literature reviews in Software Engineering Version 2.3. Engineering, 45(4ve), 1051. https://doi.org/10.1145/1134285.1134500

Lee, I., & Shin, Y. J. (2018). Fintech: Ecosystem, business models, investment decisions, and challenges. Business Horizons, 61(1), 35–46. https://doi.org/10.1016/j.bushor.2017.09.003

Moon, W. Y., & Kim, S. D. (2017). A Payment Mediation Platform for heterogeneous FinTech schemes. Proceedings of 2016 IEEE Advanced Information Management, Communicates, Electronic and Automation Control Conference, IMCEC 2016, 511–516. https://doi.org/10.1109/IMCEC.2016.7867264

Mc Kinsey. 2018. The digital archipelago: How online commerce is driving Indonesia's economic development. Mc Kinsey & Company

Muhamad Rizal, Erna Maulina, Nenden Kostini. 2018. FINTECH AS ONE OF THE FINANCING SOLUTIONS FOR SMEs. Jurnal Pemikiran dan Penelitian Administrasi Bisnis dan Kewirausahaan. Vol.3, No. 2. Departemen Administrasi Bisnis. UNPAD

OJK. 2016. Strategi Nasional Keuangan Inklusif. Jakarta

OJK. 2017. Majalah Edukasi Konsumen. Bidang Edukasi & Perlindungan Konsumen OJK. Jakarta Pusat.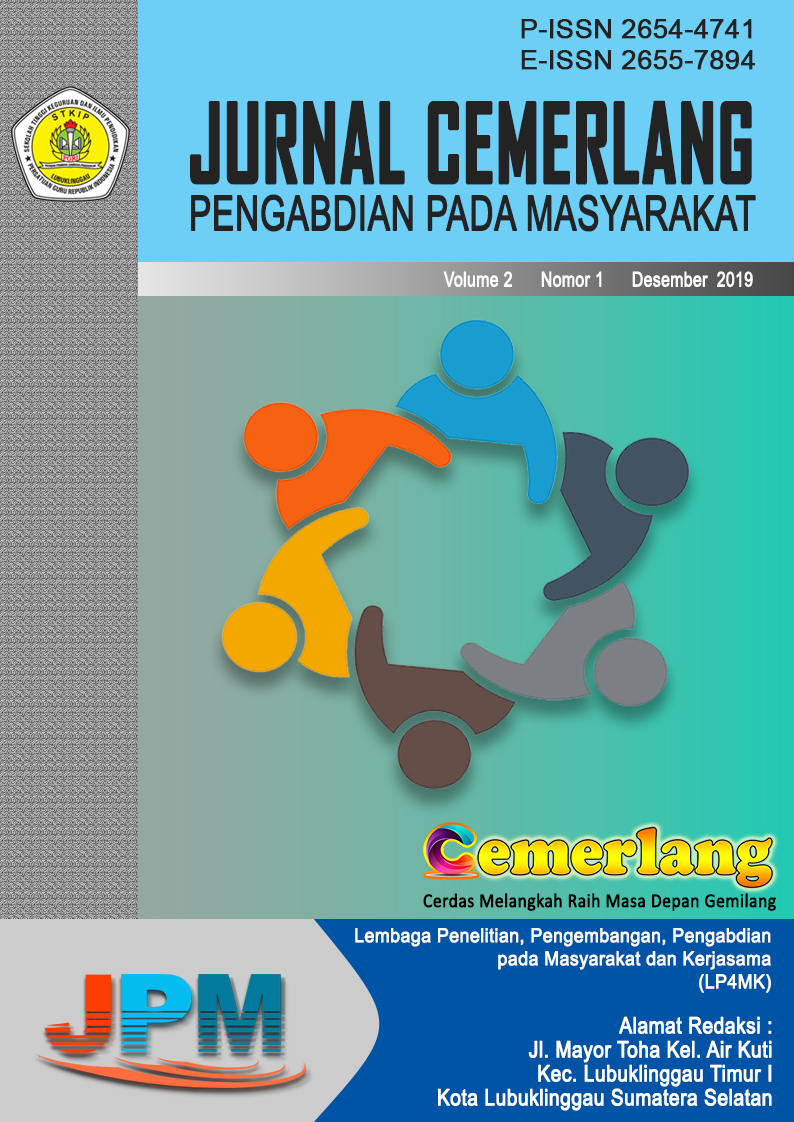 Jurnal Pengabdian Masyarakat by http://ojs.stkippgri-lubuklinggau.ac.id/index.php/JPM is licensed under a Creative Commons Attribution-ShareAlike 4.0 International License.