MENUMBUHKAN CINTA LITERASI MELALUI MENULIS KREATIF SISWA MA DARUSSALAM KECAMATAN BARAMBAI-BATOLA
Jamiatul Hamidah

Universitas Muhammadiyah Banjarmasin, Indonesia

Akhmad Syakir

Universitas Muhammadiyah Banjarmasin, Indonesia

M. Subhan Wiranata

Universitas Muhammadiyah Banjarmasin, Indonesia
Keywords:
Students, Creative Writing, Love Literacy
Abstract
The low interest in reading and writing students because of the easier access to the internet and the rapid flow of technology that reaches into the countryside. This results in MA Darussalam students who prefer watching, playing games, and playing social media than reading books or writing literary works. This creative writing training activity aims to foster interest in reading and writing adolescents, especially MA students, fostering language skills for MA students, especially in terms of creative writing, contributing knowledge in the field of language skills to the community in Batola District. This community service method is carried out by giving lectures to students about the importance of reading and writing culture and material about creative writing. Then students are trained to write short stories based on their daily experiences. The results of this activity showed a very good response from students and increased student interest in reading and writing. Evidenced by the many questions asked by students in the question and answer session, increased student knowledge about literacy culture, and requests from students and schools so that this activity continues on a regular basis.
References
Amka. (2017). Menumbuhkan Minat Membaca dan Menulis Peserta Didik. Langsat Jurnal Ilmiah Pendidikan dan Sosial. Volume 4, Nomor 2, Tahun 2017. Tersedia di http://rumahjurnal.net/index.php/langsat/article/viewFile/175/129. Diakses tanggal 25 November 2019.

Dalman. (2016). Keterampilan Menulis. Jakarta: PT RajaGrafindo Persada.

Gong, Gola. (2010). Ledakkan Idemu Di Kepalamu Agar Kepalamu Nggak Meledak. Jakarta: Gong Publishing.

Kasiyun, Suharmono. (2015). Upaya Meningkatkan Minat Baca sebagai Sarana untuk Mencerdaskan Bangsa. Jurnal Pena Indonesia, Volume 1, Nomor 1, Tahun 2015. Tersedia di https://journal.unesa.ac.id/index.php/jpi/article/view/140. Diakses tanggal 25 November 2019.

Literasi. Tt. Tersedia di https://id.wikipedia.org/wiki/Literasi. Diakses tanggal 11 April 2019.

Sunarti, Sri. (2019). Penerapan Budaya Literasi dalam Meningkatkan Minat Baca Siswa. Tersedia di https://bdkpalembang.kemenag.go.id/media/source/penerapan budaya_ literasi. pdf. diakses tanggal 25 November 2019.

Sutama, Made. (2016). Pembelajaran Menulis. Yogyakarta: Pustaka Pelajar.

Wibawanto, Alwan. (2013). Menumbuhkan Minat Baca dan Tulis Mahasiswa. Jurnal Pustakaloka, Jurnal Kajian Informasi dan Perpustakaan, Volume 5, Nomor 1, Tahun 2013. Tersedia di http://jurnal.iainponorogo.ac.id/index.php/pustakaloka/article/view/ 489. Diakses tanggal 25 November 2019.

Yunus, Syarifudin. (2015). Kompetensi Menulis Kreatif. Bogor: Ghalia Indonesia.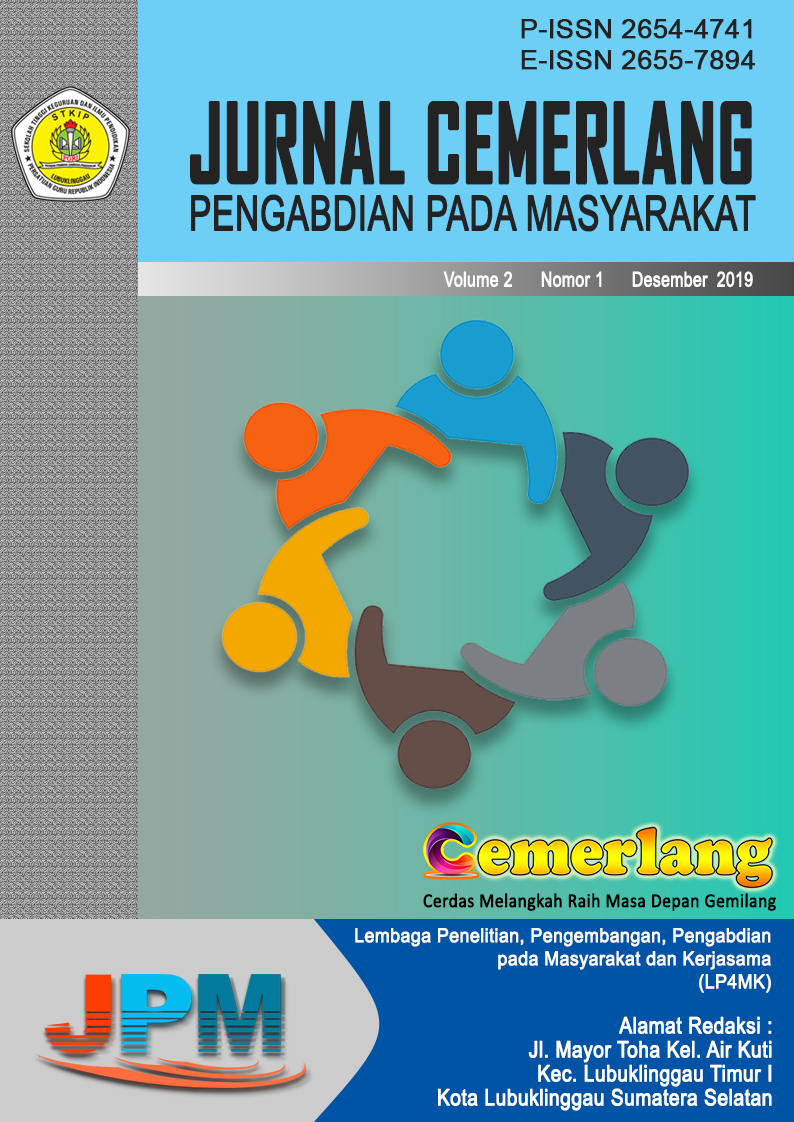 Jurnal Pengabdian Masyarakat by http://ojs.stkippgri-lubuklinggau.ac.id/index.php/JPM is licensed under a Creative Commons Attribution-ShareAlike 4.0 International License.