SOSIALISASI STRECHING DINAMIS BOLA BASKET BERSAMA PERSATUAN BOLA BASKET SELURUH INDONESIA KABUPATEN BANGKALAN DI SEKOLAH DASAR NEGERI KERATON 3
Heni Yuli Handayani

STKIP PGRI Bangkalan, Indonesia
Keywords:
Dynamic Streching, Basketball, Sports
Abstract
This community service activity is a socialization activity in collaboration with PERBASI Bangkalan Regency which is expected to contribute to improving the quality of the learning process, especially in sports subjects. With the dynamic streching socialization in the basketball game, it is felt appropriate as a useful thing and contributing to partner schools especially SD Negeri Keraton 3 Bangkalan. As for the results of this community service activity is an increase in new understanding oriented to the understanding of the implementation of dynamic warming (streching) in elementary school students before doing sports, increasing student ability in small basketball games namely line tiggy, Dribble Knockout, Team Dribble Relays (Team Dribble Relays ( Speed ​​Dribble & Ball Handling), 4 Pass to Score, Bull in the ring. Based on these results it can be concluded that the socialization of dynamic streching in basketball games for elementary students is considered good and effective, and the students' responses during the activity give a positive response.
References
Adang Suherman. (2000). Revitalisasi Pengajaran Dalam Pendidikan Jasmani. Bandung: CV. Bintang Warli Artika.

Ahmadi, Nuril. (2007). Permainan Bola Basket. Surakarta: Era Intermedia.

Al-khalili. (2005). Mengembangkan kreativitas anak.Jakarta: Pustaka Al-Kautsar.

Ano, Anwar. 2010. Permainan Bola Basket. Fakultas keguruan dan Ilmu Pendidikan Universitas Haluoleo, Kendari.

Lutan, Rusli. (1997). Manusia dan Olahraga, Bandung: Penerbit ITB.

Mahendra (2009). Modul Asas dan Falsafah Pendidikan Jasmani. Bandung : Universitas Pendidikan Indonesia.

Sanoesi, dkk (2012). Teknik Dasar Permainan Bola Basket.Bse Penjasorkes.

Suherman. (2009). "Pengembangan Model Pembelajaran Outdoor Education Pendidikan Jasmani Berbasis Kompetensi di SD", dalam jurnal ilmiah Universitas Pendidikan Indonesia, ed.254, hlm. 113-125.

Sumiharyono, Dedy. (2002). Keterampilan Basket. Yogyakarta: FIK UNY.

Sodikum, Imam. (1992). Olahraga Pilihan Bola Basket. Jakarta: Departemen Pendidikan dan Kebudayaan.

Tedjasaputra. (2001). Bermain, Mainan, dan Permainan. Jakarta: Grasindo.

Wissel, Hal. (2000). Bola Basket. Jakarta: PT Raja Grafindo Persada.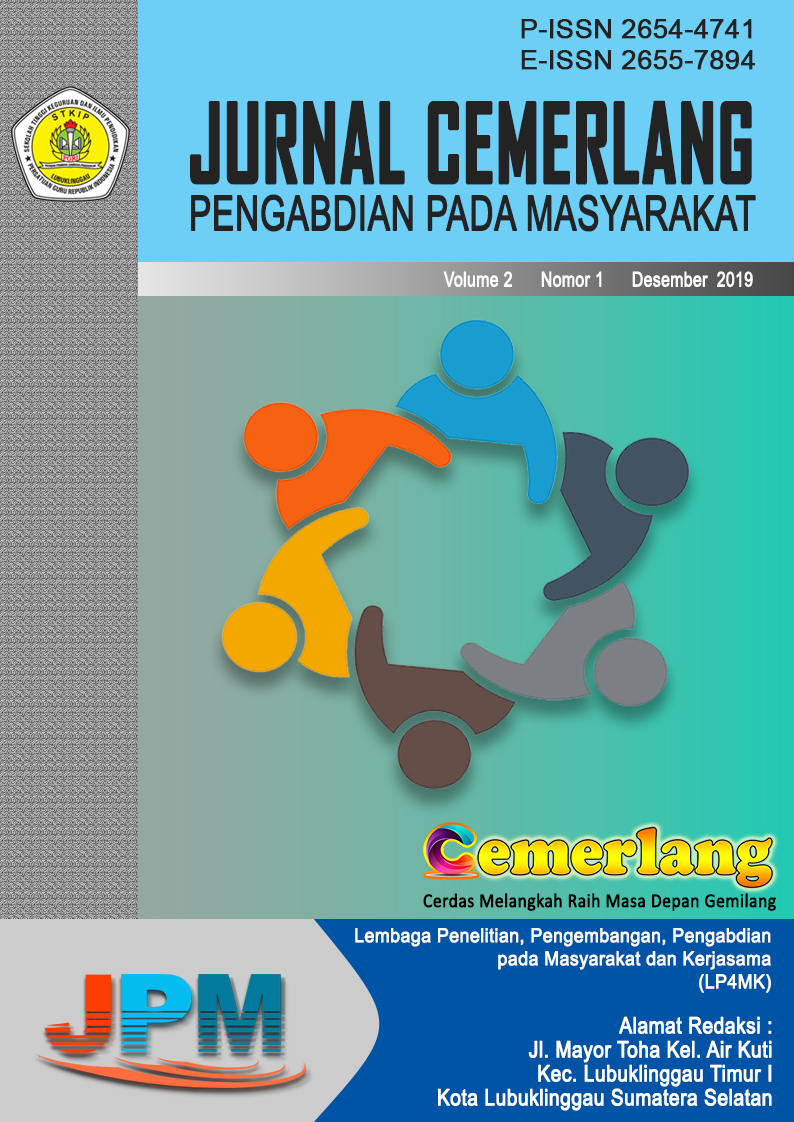 Jurnal Pengabdian Masyarakat by http://ojs.stkippgri-lubuklinggau.ac.id/index.php/JPM is licensed under a Creative Commons Attribution-ShareAlike 4.0 International License.