SOSIALISASI KESANTUNAN BERBAHASA DALAM PENGGUNAAN SOSIAL MEDIA DI KALANGAN SISWA SMP NEGERI 8 TANGERANG SELATAN
Yasir Mubarok

Universitas Pamulang, Indonesia

Adam Muhammad Nur

Universitas Pamulang, Indonesia

Eris Risnawati

Universitas Pamulang, Indonesia

Washadi W.

Universitas Pamulang, Indonesia
Keywords:
Politeness, social media
Abstract
This activity aims to help SMP Negeri 8 Tangerang Selatan that has the desire to shape the character of its students in aspect of language use. Nowadays, many cases of the impolite language in social media make a quite bad impact to its users. One effect that can be seen immediately is that the users can get into a trouble because of the language that they use. The use of this impolite language occurs because there is a lack of awareness of social media users about patterns of language politeness and the negative impacts that occur when the practice of language impoliteness is done, especially for users at an early age, so that the activities carried out are aimed at stimulating media users social especially young social media users so that they are aware of how to use polite language on social media properly and correctly. The hope to be achieved is the completion of this activity the students at SMP Negeri 8 Tangerang Selatan can apply polite language when using social media and avoid using inappropriate language so that they avoid legal issues, especially if the use of this impolite language used for harassment or insulting others, so students can sort and think when they will comment or write something on their social media.
References
Adhikara, C. T. (2010). Analisis Sebaran Pemanfaatan Internet Blog/Weblog untuk Kategori Bisnis dan Ekonomi di Dunia Maya Indonesia. ComTech, 1(2), 1188–1196.

Badri, M., & Antin, T. (2015). Adopsi Inovasi Media Sosial Mahasiswa Jurusan Ilmu Komunikasi FDK UIN Suska Riau (Studi Kasus Konsentrasi Public Relations). Jurnal Dakwah Risalah, 26(4), 183–196. https://doi.org/10.24014/jdr.v26i4.1276

Febriyani, Meri, et. al. (2018). Analisis Faktor Penyebab Pelaku Melakukan Ujaran Kebencian (Hate Speech) dalam Media Sosial. POENALE: Jurnal Bagian Hukum Pidana, 6(3).

Kominfo. (n.d.). Menkominfo: Pasal 27 Ayat 3 UU ITE Tidak Mungkin Dihapuskan. Retrieved from https://kominfo.go.id/index.php/content/detail/4419/Menkominfo%3A+Pasal+27+Ayat+3+UU+ITE+Tidak+Mungkin+Dihapuskan/0/berita_satker

Kompas.com. (2018). Hina Presiden di Facebook, Pelajar SMK Divonis 1,5 Tahun Penjara. Retrieved from https://regional.kompas.com/read/2018/01/16/15501461/hina-presiden-di-facebook-pelajar-smk-divonis-15-tahun-penjara

KumparanNEWS. (2017). 7 Hal di UU ITE yang Wajib Kamu Tahu Agar Tak Bernasib Seperti Jonru. Retrieved from https://kumparan.com/kumparannews/7-hal-di-uu-ite-yang-wajib-kamu-tahu-agar-tak-bernasib-seperti-jonru

Ningrum, D. J. et. al. (2018). Kajian Ujaran Kebencian di Media Sosial. Jurnal Ilmiah Korpus, 2(3), 241–252.

Suardi, S. (2016). Antara Media Sosial Dalam Komunikasi Politik. Jurnal Dakwah Risalah, 27(2), 82–86. https://doi.org/10.24014/jdr.v27i2.2516

Taufik, W., & Mulyani, Y. sri. (2018). Analisis Dampak Penggunaan Media Sosial, 4(Mei), 1–7.

Winarno, W. A. (2012). Berbagi Pengetahuan dan Komunitas Online: Sebuah Fenomena Blog. Jurnal Ekonomika Bisnis, 2(1), 239–248.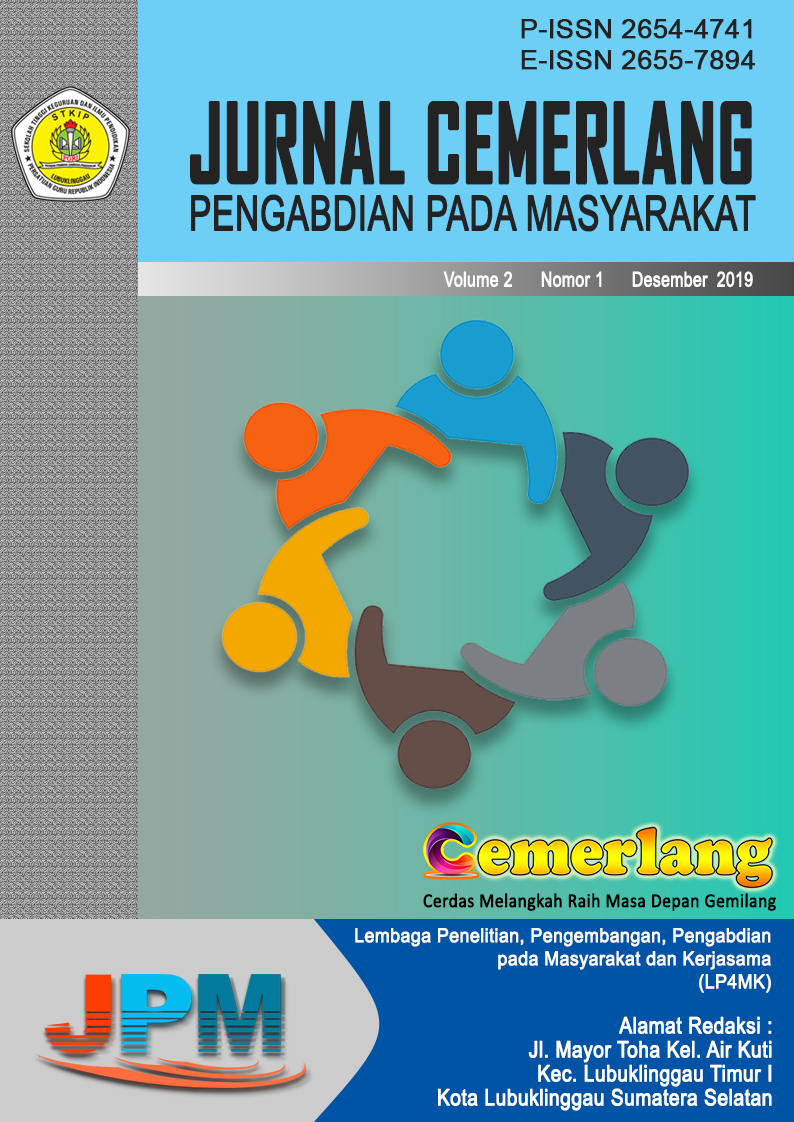 Jurnal Pengabdian Masyarakat by http://ojs.stkippgri-lubuklinggau.ac.id/index.php/JPM is licensed under a Creative Commons Attribution-ShareAlike 4.0 International License.