DUPLANG SITE: LEARNING BASED ON INTERACTIVE MULTIMEDIA ANIMATION IN HIGH SCHOOL IN LOCAL HISTORY PERSPECTIVE
LEARNING BASED ON INTERACTIVE MULTIMEDIA ANIMATION IN HIGH SCHOOL IN LOCAL HISTORY PERSPECTIVE
Abdus Samad

fkip pendidikan sejarah Universitas Jember

Wiwin Hartanto

Universitas Jember

Rully Putri Nirmala Puji

Universitas Jember
Keywords:
local history, interactive animation
Abstract
Duplang site as a study of local history that teaches field learning or observation of the field. This is done so that in learning students can learn directly about the historic site. In its implementation it is done by observation and the results of the study consist of papers or the like with the intention of students to deepen the learning that he gets. In addition, students agree directly or indirectly to support and more than that to be able to preserve the cultural heritage. The teacher's job is as a facilitator in implementing practices that discuss this local history. In learning local history can help with three forms namely classroom learning, direct observation and in-depth research. The students in this case obtain direct knowledge from the teacher about oral originating from the teacher obtained and then observe directly to be able to deepen and have a direct collection of the historical object. The use of information and communication technology in the context of history becomes a renewal with the teacher who utilizes interactive multimedia in the evaluation process can attract the attention of students and students who can take these historical values. The main purpose of learning local history is to take the values ​​intended for future life and to be able to attract the attention of students to be able to contribute in supporting and preserving the cultural heritage.
References
Adimah, S. N., Swastika, K., & Sutjitro. (2013). Situs Duplang di Desa Kamal Kecamatan Arjasa Kabupaten Jember: Historisitas dan Pemanfaatannya sebagai Sumber Pembelajaran Sejarah. Pancaran .
Puji, P. N., & Razaq, A. A. (2016). Learning Style of MBTI Personality Types in History Learning at Higher Education. PPI-UKM , 294.
Putra, I. E. (2013). Teknologi Media Pembelajaran Sejarah Melalui Pemanfaatan Multimedia Animasi Interaktif. TEKNOIF , 21.
Umamah, N. (2018). Perencanaan Pembelajaran : Mengembangkan Standar Kompetensi Guru. Jember: UNEJ Press.
Widja, I. G. (1989). Sejarah Lokal Suatu Perspektif dalam Pengajaran Sejarah. Singaraja: Angkasa bandung.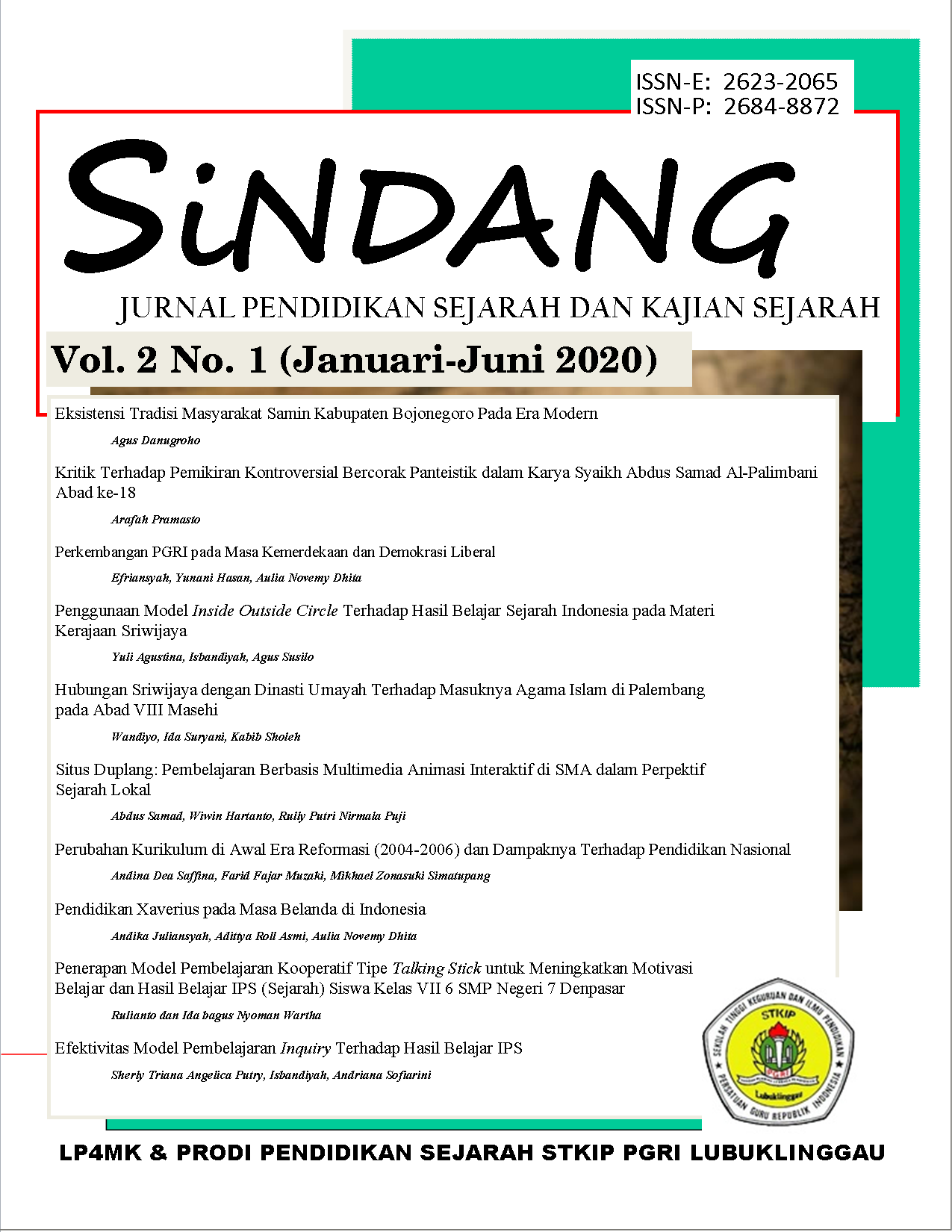 How to Cite
Samad, A., Hartanto, W., & Nirmala Puji, R. (2020). DUPLANG SITE: LEARNING BASED ON INTERACTIVE MULTIMEDIA ANIMATION IN HIGH SCHOOL IN LOCAL HISTORY PERSPECTIVE. SINDANG: Jurnal Pendidikan Sejarah Dan Kajian Sejarah, 2(1), 44-51. https://doi.org/https://doi.org/10.31540/sindang.v2i1.259