Ujaran Kebencian dalam Kolom Komentar YouTube pada Tahun Politik Pemilihan Presiden 2019
Fitri Jamilah

Universitas PGRI Yogyakarta

Primasari Wahyuni

Universitas PGRI Yogyakarta
Keywords:
hate speech, comment column, YouTube, political year, presidential election
Abstract
YouTube as social media is not only a means of communication in social interactions, but can also be used as a means of political communication. As a means of political communication, YouTube is often used to convey opinions and support for political figures who are promoted through communication, especially seen in the comments column. Various communication styles are carried out by social media users, either through comments, criticisms, suggestions, and jokes, which have the opportunity to contain hate speech. This article is the result of qualitative research that focuses on interpreting the data that has been obtained with an in-depth explanation of the phenomenon of using hate speech in the comments column of the Youtube Channel for political news in Indonesia. Data that has been successfully extracted, collected, and recorded in research activities. The technique of testing the validity of the research data used member check and validation of media experts. The results of this study indicate that the hate speech that occurred in the 2019 presidential election political news on the YouTube channel is in the form of words and phrases, as well as the use of language styles. The language style of hate speech in this study is dominated by sarcasm, which means rude, contains cursing, insinuation, ridicule, and the use of names or nicknames for others with disrespect or even humiliation or insult.
References
Al-Ma'ruf & Imron, A. (2014). Stilistika. Surakarta: Cakra Books.

Anggraeni, D., & Adrinoviarini, A. (2020). Strategi Pengawasan terhadap Ujaran Kebencian di Media Sosial pada Pemilu. AL WASATH Jurnal Ilmu Hukum, 1(2), 99–116. doi:10.47776/alwasath.v1i2.60

Asih, D. N., & Rosit, M. (2018). Opini Publik di Media Sosial: Analisis Isi Opini Kandidat Ahok-Djarot dan Anies-Sandi di Twitter. CoverAge: Journal of Strategic Communication, 8(2), 45–56. doi:10.35814/coverage.v8i2.589

Hasibuan, Z. (2019). Penyebaran Ujaran Kebencian dalam Persfektif Hukum Pidana Islam. ADLIYA: Jurnal Hukum dan Kemanusiaan, 12(2), 183–203. doi:10.15575/adliya.v12i2.4497

Inderasari, E., Achsani, F., & Lestari, B. (2019). Bahasa Sarkasme Netizen dalam Komentar Akun Instragram "Lambe Turah." Semantik, 8(1), 37. doi:10.22460/semantik.v8i1.p37-49

Juditha, C. (2018). Hoax Communication Interactivity in Social Media and Anticipation (Interaksi Komunikasi Hoax di Media Sosial serta Antisipasinya). Journal Pekommas, 3(1), 31. doi:10.30818/jpkm.2018.2030104

Keraf, G. (2004). Diksi dan Gaya Bahasa. Jakarta: Gramedia.

Kusmiarti, R., Yuniati, I., & Noermanzah. (2020). Improving Student Communication Skills in Learning Indonesian Language through Collaborative Learning. Retrieved from osf.io/9km3u. International Journal of Scientific and Technology Research, 9(1).

Malau, R. (2013). Efek Media dan Pengadilan Opini. Jurnal The Messenger, 5(1), 31. doi:10.26623/themessenger.v5i1.141

Masykuri, N. C. (2010). Perkembangan Teknologi Komunikasi dalam Menunjang Fungsi Periklanan dan Public Relation. Humaniora, 1(1), 29. doi:10.21512/humaniora.v1i1.2145

Mawarti, S. (2018). Fenomena Hate Speech Dampak Ujaran Kebencian. Toleransi: Media Ilmiah Komunikasi Umat Beragama, 10(1), 83. doi:10.24014/trs.v10i1.5722.

Medistiara, Y. (2017). Selama 2017 Polri Tangani 3.325 Kasus Ujaran Kebencian. https://news.detik.com/berita/d-3790973/selama-2017-polri-tangani-3325-kasus-ujaran-kebencian

Noermanzah, N. (2012). Figurative Language dalam Wacana Drama Seri "Upin dan Ipin" Karya Simon Monjack dengan Tinjauan Deskriptif. Jurnal Perspektif Pendidikan, 5(1), 11-23, https://ojs.stkippgri-lubuklinggau.ac.id/index.php/JPP/article/view/347

Noermanzah, N. (2019). Bahasa sebagai Alat Komunikasi, Citra Pikiran, dan Kepribadian. Seminar Nasional Pendidikan Bahasa dan Sastra, Prosiding Seminar Nasional Bulan Bahasa (Semiba), 307, https://ejournal.unib.ac.id/index.php/semiba/article/view/11151/5537

Norhabiba, F., & Putri, S. A. R. (2018). Hubungan Intensitas Akses Media Baru dan Kualitas Interaksi Lingkungan Sekitar pada Mahasiswa Untag Surabaya. Interaksi: Jurnal Ilmu Komunikasi, 7(1), 8. doi:10.14710/interaksi.7.1.8-15

Nurel, M. (2018). Majas Sarkasme dalam Penulisan Komajas pada Komentar Warganet dalam Berita "Ahok Banjir Kiriman Karangan Bunga, Fadli Zon: Pencitraan Murahan" (Figure of Speech In Netizen's Comments on the News "Ahok Banjir Kiriman Karangan Bunga, Fadli Zon: Pencitraan Murahan") Mentar pada "Ahok Banjir Kiriman Karangan Bunga, Fadli Zon: Pencitraan Murahan." Metalingua: Jurnal Penelitian Bahasa, 16(1), 37. doi:10.26499/metalingua.v16i1.150.

Pamuji, E. (2020). Ujaran Kebencian pada Ruang–Ruang Digital. Jurnal Kajian Media, 4(2). doi:10.25139/jkm.v4i2.2811

Riansi, E. S. (2017). Gejala Campur Kode pada Pengunjung Taman Mini Indonesia Indah. Jurnal Membaca (Bahasa dan Sastra Indonesia), 2(2), 175. doi:10.30870/jmbsi.v2i2.2713

Sudaryanto. (1993). Metode dan Aneka Teknik Analisis Bahasa. Yogyakarta: Duta Wacana University Press.

Takariani, C. S. D. (2015). Opini Nelayan Tentang Akses Informasi Publik. Jurnal Penelitian Komunikasi, 18(2), 101–114. doi:10.20422/jpk.v18i2.40

Undang-Undang Dasar Negara Republik Indonesia 1945, Pasal 28 Ayat 3 tentang Kebebasan Berserikat, Berkumpul, dan Mengeluarkan Pendapat.

Undang-Undang Nomor 11 Tahun 2008 tentang Informasi dan Transaksi Elektronik (UU ITE).

Weeks, B.E. & Holbert, R.L. (2013). Predicting Dissemination of Newsc Content in Social Media: A Focus on Reception, Friending and Partisanship. Journalism and Mass Communication Quaterly, 90 (2), 12.

Wibowo, Y & Silaen, S. M. J. (2018). Hubungan Self-Esteem dan Penggunaan Media Sosial Instagram dengan Perilaku Narsisme di Kalangan Siswa Kelas VIII SMPK Penabur Bintaro Jaya. Ikraith-Humaniora, 2(2).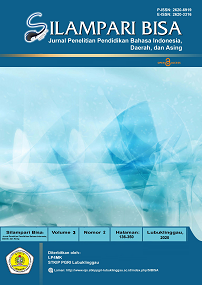 How to Cite
Jamilah, F., & Wahyuni, P. (2020). Ujaran Kebencian dalam Kolom Komentar YouTube pada Tahun Politik Pemilihan Presiden 2019. Silampari Bisa: Jurnal Penelitian Pendidikan Bahasa Indonesia, Daerah, Dan Asing, 3(2), 325-341. https://doi.org/https://doi.org/10.31540/silamparibisa.v3i2.1109