Wujud dan Makna Implikatur dalam Humor Miss Dakem Karawang serta Alternatifnya sebagai Bahan Ajar Teks Anekdot di SMA Kelas X
Ria Sonia

Universitas Singaperbangsa Karawang

Oding Supriadi

Universitas Singaperbangsa Karawang

Sahlan Mujtaba

Universitas Singaperbangsa Karawang
Keywords:
form and meaning of implicature, Miss Dakem Karawang humor, anecdotal text teaching materials
Abstract
This study aims to describe the form and meaning of implicatures in Miss Dakem Karawang's humor. The type of research used in this research is descriptive qualitative. The subject of this research is the humorous utterances of Miss Dakem Karawang. Meanwhile, the object of this research is the form and meaning of implicature in Miss Dakem Karawang's humor. This research data collection was carried out by means of documentation, namely listening techniques, noting important things using data tables. This technique is done by listening carefully to a speech in the Miss Dakem Karawang humor video. Miss Dakem Karawang humor has 1 form of implicature and produces 9 conversational utterances. As for the meaning of implicature in this study, there are 5 meanings, namely, assertive, directive, commissive, expressive, and declarative, there are 12 conversational utterances containing implicature meaning in Miss Dakem Karawang. The results of this study are expected to be used as teaching materials for anecdotal texts in the form of handouts.
References
Abdullah, S. N., & Nurhidayah, Y. (2019). Analisis Semiotik Strategi Dakwah Humor Akun Instagram Nunuzoo. ORASI: Jurnal Dakwah Dan Komunikasi, 10(1), 115. doi:10.24235/orasi.v10i1.5145

Andriani, R. (2021). Implikatur dalam Wacana Pojok "Nuwun Sewu'' pada Surat Kabar Harian Solopos Edisi Oktober 2019. Lingua Franca:Jurnal Bahasa, Sastra, dan Pengajarannya, 5(1), 70. doi:10.30651/lf.v5i1.5172

Arikunto, S. (2006). Metode Penelitian Kualitatif. Jakarta: Bumi Aksara.

Budiyanto, D. (2013). Penyimpangan Implikatur Percakapan dalam Humor-Humor Gus Dur. Litera, 8(2). doi:10.21831/ltr.v8i2.1206

Edi, S. (2018). Etnopragmatik Bingkai Kebudayaan Jawa pada Tuturan Kiai Jawa. Jawa Tengah: CV. Sarnu Untung.

Faizah, A. R. N. & Rustono, R. (2017). Implikatur dalam Wacana Stand Up Comedy Indonesia Sesi 4 Dodit Mulyanto di Kompas TV. Jurnal Sastra Indonesia 6(1), https://journal.unnes.ac.id/sju/index.php/jsi/article/view/16904

Isnaniah, S. (2018). Analisis Implikatur Percakapan dalam Pembelajaran pada Mahasiswa IAIN Surakarta. SeBaSa, 1(2), 135. doi:10.29408/sbs.v1i2.1041

Nugroho, D. A. D. (2020). Analisa Pragmatik Pelanggaran Maksim Percakapan dalam Iklan Mie Sedaap: Sebagai Proses Kreatif Pembuatan Iklan. Jurnal Komunikasi Profesional, 4(1). doi:10.25139/jkp.v4i1.2552

Pudyastuti, L. A. & Zamzani, Z. (2019). Implikatur Percakapan dalam Pembelajaran Bahasa Indonesia di Sekolah. Widyaparwa, 47(1), https://widyaparwa.kemdikbud.go.id/index.php/widyaparwa/article/view/316

Rahayu, R., & Markhamah, M. (2018). Implikatur Konvensional dalam Acara Stand Up Comedy Indonesia Season 7 di Stasiun Kompas TV. Doctoral Dissertation, Universitas Muhammadiyah Surakarta.

Sekarwati, S. H. (2018). Analisis Pelanggaran Maksim sebagai Strategi Pengungkapan Humor dalam Video Humor di Akun Instagram Ria Yunita. Sirok Bastra, 4(2), 138. doi:10.37671/sb.v4i2.83

Tarigan, H, G. (2015). Pengajaran Pragmatik. Bandung: PT Angkasa.

Wahyuningsih, H., & Rafli, Z. (2017). Implikatur Percakapan dalam Stand Up Comedy 4. Bahtera: Jurnal Pendidikan Bahasa dan Sastra, 16(2), 139-153. https://doi.org/10.21009/BAHTERA.162.09

Yuliansyah, B. (2019). Jenis dan Fungsi Implikatur pada Buku Tuhan pun Berpuasa Karya Emha Ainun Nadjib. Doctoral dissertation, Universitas Muhammadyah Purwokerto.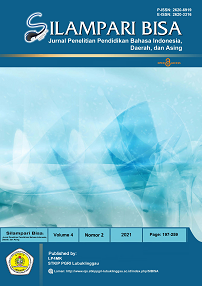 How to Cite
Sonia, R., Supriadi, O., & Mujtaba, S. (2021). Wujud dan Makna Implikatur dalam Humor Miss Dakem Karawang serta Alternatifnya sebagai Bahan Ajar Teks Anekdot di SMA Kelas X. Silampari Bisa: Jurnal Penelitian Pendidikan Bahasa Indonesia, Daerah, Dan Asing, 4(2), 279–290. https://doi.org/https://doi.org/10.31540/silamparibisa.v4i2.1326