Efektivitas Model Discovery Learning terhadap Keterampilan Menulis Surat Dinas Siswa Kelas VII SMP Negeri B Srikaton
M. Syahrun Effendi

STKIP PGRI Lubuklinggau

Eko Saputra

STKIP PGRI Lubuklinggau
Keywords:
effectiveness, discovery learning model, official letter writing skills
Abstract
This study aims to determine whether the discovery learning model is significantly effective on the writing skills of seventh grade students of SMP Negeri B Srikaton. The method used in this study was a quasi-experimental with a one group pretest-posttest design. The study population was all 7th grade students of SMP Negeri B Srikaton for the 2020/2021 academic year, totaling 236 students. One class is defined as the sample determined by the simple technique random sampling, namely class VII.6, totaling 30 students as the experimental class. Collecting data using a test technique in the form of an official letter writing test. The data analysis technique was carried out using the "t test. The results of the study prove that the discovery learning model is significantly effective on the writing skills of seventh grade students of SMP Negeri B Srikaton. This is evidenced by the results of tcount 6.68 greater than ttable 1.699 at a significant level of 5%, thus the alternative hypothesis (Ha) of this study is accepted.
References
Ahyana. (2020). Kemampuan Menulis Surat Dinas Siswa Kelas VII B SMP Negeri 12 Palu. Jurnal Bahasa dan Sastra, 5(3), 3.

Arifani, Y. (2016). The Implementation of Team-Based Discovery Learning to Improve Students' Ability in Writing Research Proposal. International Education Studies, 9(2), 111.

Arikunto, S. (2010). Prosedur Penelitian Suatu Pendekatan Praktik. Jakarta: PT Rineka Cipta.

Azhari, (2015). Penerapan Model Pembelajaran Discovery Learning terhadap Peningkatan Hasil Belajar Siswa Kelas XI-IPA1 pada Materi Sistem Penerapan di SMA Negeri Unggul Sigli. Jurnal Biologi Edukasi, 7(1), 15.

Balim, A. G. 2009. The Effects of Discovery Learning on Students' Succes and Inqury Learning Skills. Eurasian Journal of Educational Research, 9(35), 1-17.

Effendi, M. S. (2018). Pengaruh Model Pembelajaran dan Kemampuan Bernalar terhadap Kemampuan Menulis (Penelitian Eksperimen pada Siswa Kelas IV SD Ogan Ilir-Sumatera Selatan yang Melaksanakan Kurikulum 2013). Disertasi Pendidikan Bahasa Universitas Negeri Jakarta.

Harsiati, T., Trianto, A., & Kosasih, E. (2017). Bahasa Indonesia. Jakarta: PT Gramedia.

Nurgiyantoro, B. (2012). Penilaian Pembelajaran Bahasa Berbasis Kompetensi. Yogyakarta: BPFE-Yogyakarta.
Permatasari, S. E. (2019). Kohesi dan Koherensi pada Surat Dinas di Kantor Dinas Pendidikan dan Kebudayaan Kota Praumulih. Journal of Language Learning and Research (JOLLAR), 2(2), 41–54. doi:10.22236/jollar.v3i2.5771

Pratiwi, D. P. (2020). Keefektifan Model Discovery Learning Berbantuan Audiovisual terhadap Hasil Belajar IPS Kelas IV. Joyful Learning Journal, 9(3), 133–137. doi:10.15294/jlj.v9i3.39705

Rosarina, G., Sudin, A., Sujana, A. (2016). Penerapan Model Discovery Learning untuk Meningkatkan Hasil Belajar Siswa pada Materi Perubahan Wujud Benda. Jurnal Pena Ilmiah, 1(1), 374.

Salmi. (2019). Penerapan Model Pembelajaran Discovery Learning dalam Meningkatkan Hasil Belajar Ekonomi Peserta Didik Kelas XII IPS.2 SMA Negeri 13 Palembang. Jurnal Profit, 6(1), 6.

Suprihatiningrum, J. (2013). Strategi Pembelajaran. Yogyakarta: Ar-ruzz Media.

Syam, S., Komalasari, D., Yurfiah. (2019). Pelatihan Penulisan Surat Dinas di Desa Lanto Kecamatan Mawasangka Tengah Kabupaten Buton Tengah. Jurnal Pengabdian Kepada Masyarakat, 3(2), 20.

Wiguna, M. Z., Ramaniyar, E., Kusnita, S. (2016). Analisis Bentuk Surat Dinas Program Studi Pendidikan Bahasa dan Sastra Indonesia Tahun Akademik 2013/2014 Semester Genap. Jurnal Edukasi, 14(1), 96.

Wiguno, P. S., & Jaja, J. (2019). Pengembangan Bahan Ajar Teks Surat Berdasarkan Surat Pribadi dan Surat Dinas dan Implementasinya dalam Pembelajaran di SMP. Jurnal Tuturan, 8(2). doi:10.33603/jt.v8i2.2868

Yuliana, N. (2018). Penggunaan Model Pembelajaran Discovery Learning dalam Peningkatan Hasil Belajar Siswa di Sekolah Dasar. Jurnal Ilmial Pendidikan dan Pembelajaran, 2(1), 22-23.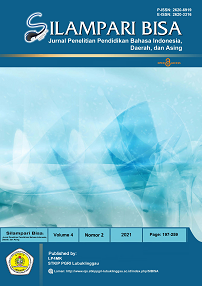 How to Cite
Effendi, M. S., & Saputra, E. (2021). Efektivitas Model Discovery Learning terhadap Keterampilan Menulis Surat Dinas Siswa Kelas VII SMP Negeri B Srikaton. Silampari Bisa: Jurnal Penelitian Pendidikan Bahasa Indonesia, Daerah, Dan Asing, 4(2), 306-316. https://doi.org/https://doi.org/10.31540/silamparibisa.v4i2.1440