Penerapan Tri-N dalam Buku Teks Siswa Bahasa Indonesia untuk Siswa SMP Kelas VIII Kurikulum 2013
Siti Rahayu

Universitas Sarjanawiyata Tamansiswa

Siti Rochmiyati

Universitas Sarjanawiyata Tamansiswa
Keywords:
Niteni, Nirokke, Nambahi, Indonesian Textbooks
Abstract
The purpose of this study was to describe the application of the Niteni, Nirokke, and Nambahi processes in Indonesian Students' Textbooks for Class VIII Junior High School Students in 2013 Curriculum. The research method uses a qualitative descriptive method with the interactive analysis model of Miles and Huberman. Data collection techniques using documentation techniques sourced from students' textbooks, namely Indonesian Language Books for Students of Class VIII Middle School Curriculum 2013. Data in this study are words, phrases, sentences, and paragraphs that contain operational verbs in the application of the niteni, nirokke, and nambahi to the student textbook. Test the validity of the data using member check and expert validation. Data analysis techniques with the following steps: data reduction, data presentation, and verification or conclusion. The results showed that all indicators of the niteni, nirokke, and nambahi processes were contained in the textbook. Niteni in students' textbooks has the element of observing using the sense of hearing, digging deeper information from observations, and reasoning by connecting knowledge already possessed from excavated results. Nirokke in students' textbooks has the elements of imitating through sound, imitating by reading, imitating by writing, imitating through movement, imitating by trying or experimenting, imitating by demonstrating or practicing, and imitating by presenting. Then, Nambahi in student textbooks there is an element of adding by creating or making, and the process of adding by improvising.
References
Haslinda, H. (2017). Pengembangan Bahan Ajar Kajian Apresiasi Prosa Fiksi Berbasis Kearifan Lokal Terintegrasi Mobile Learning. Konfiks : Jurnal Bahasa dan Sastra Indonesia, 4(1), 48. doi:10.26618/jk.v4i1.1216

Noermanzah & Friantary, H. (2019). Development of Competency-Based Poetry Learning Materials for Class X High Schools. International Journal of Recent Technology and Engineering, 8 (4).

Noermanzah, N. (2015). Peran Dosen Bahasa dan Sastra Indonesia dalam Mempertahankan Bahasa Indonesia sebagai Alat Pemersatu Negara Kesatuan Republik Indonesia pada Era Globalisasi. Dalam Prosiding Seminar Nasional Bulan Bahasa 2015. Unit Penerbitan FKIP Universitas Bengkulu, p. 274. http://repository.unib.ac.id/11133/

Nugroho, A., & Fitri, L. (2018). Respons Siswa SMP Negeri se Kota Lubuklinggau terhadap Bahan Ajar Cerita Rakyat Lubuklingau. Silampari Bisa: Jurnal Penelitian Pendidikan Bahasa Indonesia, Daerah, dan Asing, 1(1), 117. doi:10.31540/silamparibisa.v1i1.11

Prihatni, Yuli. (2014). "Pendekatan Saintifik dalam Ajaran Ki Hadjar Dewantara". Prosiding Seminar Nasional Pendidikan Sains. (Vol. 2 Nomor 1). Hlm. 290-300.

Rahayu, Indah. (2018). " Penerapan Konsep 3N (Niteni, Nirokke, Nambahi) untuk Meningkatkan Motivasi Belajar Matematika Siswa". Prosiding Seminar Nasional Etnomatsia.

Rochmiyati, Siti. (2015). "Kebijakan Pendidikan Bahasa Indonesia dalam Perspektif Pendidikan Nasional". CARAKA, 1 (2), 3-13.

Sangidu. (2017). Penelitian Sastra: Penelitian Sastra: Pendekatan, Teori, Metode, Teknik, dan Kiat. Yogyakarta: Seksi Penerbitan Sastra Asia Barat Fakultas Ilmu Budaya UGM.

Sugiyono. (2015). Metode Penelitian Pendidikan Pendekatan Kualitatif dan R&D. Bandung: Alfabeta.

Sumiyati. 2018. "Pengaruh Konsep 3N 'Niteni, Nirokke, Nambahi' terhadap Prestasi Belajar Matematika Ditinjau dari Keaktifan Siswa Kelas X SMK". Prosiding Seminar Nasional Etnomatsia.

Undang-Undang RI Nomor 20 Tahun 2003 tentang Sistem Pendidikan Nasional Bab 1 Pasal 1.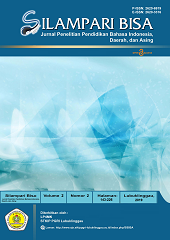 How to Cite
Rahayu, S., & Rochmiyati, S. (2019). Penerapan Tri-N dalam Buku Teks Siswa Bahasa Indonesia untuk Siswa SMP Kelas VIII Kurikulum 2013. Silampari Bisa: Jurnal Penelitian Pendidikan Bahasa Indonesia, Daerah, Dan Asing, 2(2), 173-184. https://doi.org/https://doi.org/10.31540/silamparibisa.v2i2.594