Struktur dan Pola Komunikasi dalam Wacana Pembelajaran Teks Eksplanasi di Madrasah Aliyah Al-Istiqomah
Ari Wahyuni

Universitas Bengkulu

Dian Eka Chandra Wardhana

Universitas Bengkulu

Agus Trianto

Universitas Bengkulu
Keywords:
discourse structure, communication patterns, explanatory text learning
Abstract
Learning explanatory text discourse can be seen whether it is successful or not in bringing students to achieve the goals of language learning by examining the structure and patterns of communication. For this reason, the purpose of this study is to describe the structure and patterns of communication in the discourse of explanatory text learning at Madrasah Aliyah Al-Istiqomah. The research method used a class discourse analysis model with the IRF model. The subjects of this study were 21 students. Data collection techniques are carried out by observation, recording, and interviews. Discourse analysis technique uses discourse analysis class Sinclair and Coulthard with the IRF model, namely initiation, response, and follow-up. Data validity test used triangulation of data collection techniques. The results showed that in learning explanatory text, the structure of classroom discourse in learning was not always structured with IRF in free exchange. Whereas in bound exchange, the function of F is not only reversed, but accompanied by re-initiation or bonding (Ib) so that the class discourse structure becomes IR Ib RF / Ib R. transaction communication.
References
Apreno, R., & Noermanzah, N. (2020). Ideologi Kapitalisme dalam Iklan Rokok Djarum 76 Edisi Wani Piro: Kajian Analisis Wacana Kritis. Silampari Bisa: Jurnal Penelitian Pendidikan Bahasa Indonesia, Daerah, dan Asing, 3(1), 93. doi:10.31540/silamparibisa.v3i1.882

Atkins, A. (2001). Sinclair and Coulthard's 'IRF' Model in a One-to-One Classroom: an Analysis. https://www.birmingham.ac.uk/Documents/college-artslaw/cels/essays/csdp/Atkins4.pdf

Darma, Y. A. (2009). Analisis Wacana Kritis. Bandung: Yrama Widya.

Handayani, T. R. M., Trianto, A., & Ariesta, R. (2020). Analisis Wacana Kelas dalam Pembelajaran Bahasa Indonesia pada Pelaksanaan Debat Kelas X SMA Negeri 09 Kota Bengkulu Tahun Ajaran 2019. Jurnal Ilmiah KORPUS, 4(1), 108–117. doi:10.33369/jik.v4i1.8354

Kemendikbud. (2017). Buku Guru Bahasa Indonesia SMA/MA/SMK/MAK Kelas XI. Jakarta: Pusat Kurikulum dan Perbukuan, Balitbang, Kemendikbud.

Kemendikbud. (2017). Buku Siswa Bahasa Indonesia SMA/MA/SMK/MAK Kelas XI. Jakarta: Pusat Kurikulum dan Perbukuan, Balitbang, Kemendikbud.

Nicholson, S. J. (2014). An Impetus for Change: Classroom Analysis Using Sinclair and Coulthard's Model of Spoken Discourse. International Journal of Linguistics, 6(2), 199-219.

Noermanzah, N., Abid, S., & Septaria, S. (2018). Improving the Ability of Writing a Narrative Charge by Using Animated Images Media Student Class V.B SD Negeri 17 Lubuklinggau. BAHTERA : Jurnal Pendidikan Bahasa dan Sastra, 17(2), 116. doi:10.21009/bahtera.172.9

Normawati. (2017). Kemampuan Menulis Teks Eksplanasi Siswa Kelas XI IPA2 SMA Negeri 1 Sentani Kabupaten Jayapura. Kibas Cenderawasih, 14(2), 221-236.

Saptani, P. (2015). Tindak Tutur dalam Wacana Kelas Vb SD Negeri 62 Kota Bengkulu Tahun Pelajaran 2012/2013. Diksa : Pendidikan Bahasa dan Sastra Indonesia, 1(2), 1–8. doi:10.33369/diksa.v1i2.3145.

Sugiyono. (2018). Metode Penelitian Kualitatif. Bandung: Afabeta.

Sukmadinata, N. S. (2008). Metode Penelitian Pendidikan. Bandung: Remaja Rosdakarya.

Tsui, A. (2008). Classroom Discourse: Approaches and Perspectives. Classroom Interaction / ABMT , 1-12. http://hdl.handle.net/10722/57046

Undang-Undang Nomor 24 Tahun 2009 tentang Bendera, Bahasa, dan Lambang Negara serta Lagu Kebangsaan.

White, A. (2003). The Application of Sinclair and Coulthard's IRF Structure to a Classroom Lesson: Analysis and Discussion. University of Birmigham , 1-17.

Wirma, S., & Suryadi, B. D. (2017). Analisis Wacana Interaksi Kelas Bahasa Guru dalam Pembelajaran Bahasa Indonesia di Kelas VII B SMPN 11 Kota Bengkulu Tahun Ajaran 2016/2017. Jurnal Ilmiah Korpus, 1(2), 191-198.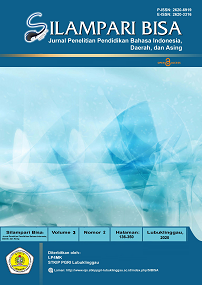 How to Cite
Wahyuni, A., Wardhana, D. E. C., & Trianto, A. (2020). Struktur dan Pola Komunikasi dalam Wacana Pembelajaran Teks Eksplanasi di Madrasah Aliyah Al-Istiqomah. Silampari Bisa: Jurnal Penelitian Pendidikan Bahasa Indonesia, Daerah, Dan Asing, 3(2), 371-390. https://doi.org/https://doi.org/10.31540/silamparibisa.v3i2.944