PENGARUH KECEMASAN MATEMATIKA TERHADAP KEMAMPUAN PEMECAHAN MASALAH MATEMATIS SISWA SMP NEGERI SE-KECAMATAN BANYUASIN
Ika Septiarini

Universitas PGRI Palembang, Indonesia

Nila Kesumawati

Universitas PGRI Palembang, Indonesia

Jumroh Jumroh

Universitas PGRI Palembang, Indonesia
Keywords:
Math anxiety, problem solving skills
Abstract
This study aims to find out the relationship, influence, and how much influence of mathematical anxiety on the mathematical problem solving ability of smp negeri students in Rambutan Banyuasin sub-district. This research is quantitative research using survey method. Data collection with tests and engket. The data collected were analyzed using correlation analysis techniques namely normality test, linearity test, and correlation test. From the results of the study, it was concluded that mathematical anxiety has a relationship and influence on the mathematical problem solving ability of junior high school students in Rambutan Banyuasin sub-district.
References
Ashcraft, Mark H. 2002. Math Anxiety: Personal, Educational, and Cognitive Consequences(online). (http://www.mccc.edu/~jenningh/Courses/documents/math_anxiety.pdf, diakses 18 Februari 2017)

Anurrofiq, M dan Iwan Junaedi. 2017. Kecemasan Matematik Siswa dalam Menyelesaikan Soal-soal Pemecahan Masalah.

Depdiknas. 2006. Peraturan Menteri Pendidikan Nasional Republik Indonesia Nomor 22 tahun 2006 tentang Standar Isi untuk Satuan Pendidikan Dasar dan Menengah.Jakarta: depdiknas

Freedman, Ellen. 1997-2006. Do You have Math Anxiety? A Self Test (online). (http://www.pearsoncustom.com/mdc_algebra/math_anxiety_material.pdf, diakses 19 Februari 2017)

Hartono. 2015. Statistik untuk Penelitian. Pekanbaru Riau: Pustaka Pelajar

Hamzah, Ali. 2014. Evaluasi Pembelajaran Matematika. Jakarta: Raja Grafindo Persada

Khatoon, T. & Mahmood, S. (2010). Mathematics Anxiety Among Secondary School Students in India and its Relationship to Achievement in Mathematics. European Journal of Social Science, 16 (1), 75-86.

Riduwan. 2013. Belajar Mudah Penelitian untuk Guru-Karyawan dan Peneliti Pemula. Bandung: Alfabeta

Satriyani. 2016. Pengaruh Kecemasan Matematika (Mathematics Anxiety) dan Gender Terhadap Kemampuan Pemecahan Masalah Matematis Siswa(online). (repository.uinjkt.ac.id/dspace/bitstream/123456789/32047/3/SATRIYANI-FITK.pdf, diakses 18 Februari 2017)

Slameto, 2013. Belajar dan Faktor-faktor yang Mempengaruhi. Jakarta: Rineka Cipta

Yanti, Dwi dan Herma Yunita (2020). "Kecemasan Matematika dan Self Efficacy dalam melakukan Pembuktian Matematika". Journal of Mathematics Science and Education

Zakaria, E., Nordin, N. M. (2008). "The Effects of Mathematics Anxiety on Matriculation Student as Related to Motivation and Achievement". Eurasia Journal of Mathematics, Science, & Technology Eductaion. 4 (1), 27-30.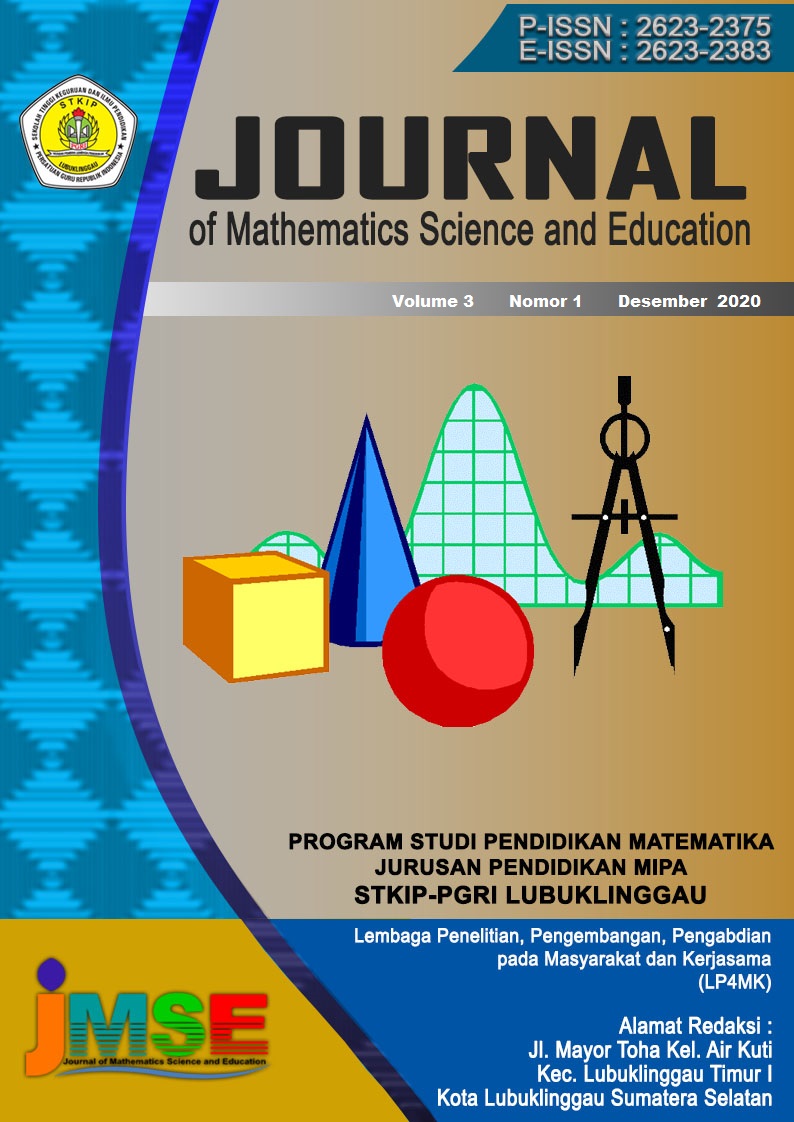 How to Cite
Septiarini, I., Kesumawati, N., & Jumroh, J. (2020). PENGARUH KECEMASAN MATEMATIKA TERHADAP KEMAMPUAN PEMECAHAN MASALAH MATEMATIS SISWA SMP NEGERI SE-KECAMATAN BANYUASIN. JOURNAL of MATHEMATICS SCIENCE and EDUCATION, 3(1), 8-16. https://doi.org/https://doi.org/10.31540/jmse.v3i1.951

This work by Journal of Mathematics Science and Education is licensed under a Creative Commons Attribution-NonCommercial-ShareAlike 4.0 International License.