PENGUATAN BAGI PELAJAR TERHADAP ANCAMAN BAHAYA PENYALAHGUNAAN NAPZA DI DESA REJOSARI LAMPUNG SELATAN
PENGUATAN BAGI PELAJAR TERHADAP ANCAMAN BAHAYA PENYALAHGUNAAN NAPZA DI DESA REJOSARI LAMPUNG SELATAN
Bambang Hartono

Universitas Bandar Lampung

Zainab Ompu Jainah

Universitas Bandar Lampung

Erlina B

Universitas Bandar Lampung

Hendri Dunan

Universitas Bandar Lampung

Intan Nurina Seftiniara

Universitas Bandar Lampung

Suta Ramadan

Universitas Bandar Lampung
Keywords:
DRUGS, Dangers of Drugs, Students
Abstract
Teenagers are the nation's next generation of young people in globalization in the era of the industrial revolution 4.0, where teenagers are required to be able to follow the transition to the millennial modernization era. The threat of the dangers of abuse of Narcotics, Psychotropics, and Addictive Substances (Drugs) in Indonesia is now increasingly prevalent, so it is increasingly worrying that drug abuse can increase from various circles of society, including teenagers who are still good students who are still in junior high school to high school. There are various reasons why students or students engage in deviant behavior such as drug abuse, namely: 1) the use of drugs in the social environment, especially in the association of teenagers, is considered normal and even becomes a modern trance, 2) begins with the persuasion of friends to try to feel the effects. of these drugs, 3) there is an excessive pressure of life burden so that a person is stressed and a desire arises to feel his pleasure for a moment, and 4) a user has an addiction so that he feels he can't stop. Increasing students' awareness and knowledge of the dangers of the threat of drug abuse must be done from an early age. The importance of providing education about the dangers of drugs to students in the school environment is the first step to prevent students from falling into juvenile delinquency, because teenagers are the nation's next generation of young people, which must be protected from drug abuse.
References
Afiatin, T. 1998. Bagaimana Menghindarkan Diri Dari Penyalahgunaan Napza. Buletin Psikologi, 6(2).
Aswar, A., Putra, F. R. S., Mukhlishah, N., & others. 2021. Peran Orang Tua Dalam Pencegahan Penyalahgunaan Narkoba Pada Remaja. Jurnal AbdiMas Bongaya, 1(1), 53–59.
Dalimunte, N., & Harahap, R. S. D. 2019. Pengaruh Perilaku Merokok Terhadap Resiko Penyalahgunaan Napza Di Upmi. Jurnal Riset Hesti Medan Akper Kesdam I/BB Medan, 4(1), 1–7.
Hayati, F. 2019. Penyuluhan tentang bahaya narkoba pada remaja. Jurnal Abdimas Kesehatan (JAK), 1(3), 190–193.
Hidayat, A. 2015. Diseminasi Kesadaran Hukum Guna Penguatan Daya Tangkal Mandiri terhadap Penyalahgunaan Narkoba dan Perilaku Seks Bebas di Kalangan Remaja Kecamatan Bandungan Kabupaten Semarang. Jurnal Abdimas, 19(2).
Jainah, Z. O. 2017. Budaya Hukum Penegak Hukum Dalam Pemberantasan Tindak Pidana Narkotika. Depok, Rajawali Pers.
Jainah, Z. O. 2018. Kapita Selekta Hukum Pidana. Tira Smart, Tanggerang.
Jainah, Z. O. 2021. Budaya Hukum Penegak Hukum dalam Pemberantasan Tindak Pidana Narkotika-Rajawali Pers. PT. RajaGrafindo Persada.
Novitasari, N., & Rochaeti, N. 2021. Proses Penegakan Hukum Terhadap Tindak Pidana Penyalahgunaan Narkotika Yang Dilakukan Oleh Anak. Jurnal Pembangunan Hukum Indonesia, 3(1), 96–108.
Nur'artavia, M. R. 2017. Karakteristik pelajar penyalahguna NAPZA dan jenis NAPZA yang digunakan di Kota Surabaya. The Indonesian Journal of Public Health, 12(1), 27–38.
Nurmaya, A. 2016. Penyalahgunaan napza di kalangan remaja (studi kasus pada 2 Siswa di MAN 2 Kota Bima). Jurnal Psikologi Pendidikan Dan Konseling: Jurnal Kajian Psikologi Pendidikan Dan Bimbingan Konseling, 2(1), 26–32.
Prawirohardjo, S., & others. 2011. Ilmu kandungan. Jakarta: PT Bina Pustaka Sarwono Prawirohardjo.
Sholihah, Q. 2015. Efektivitas program p4gn terhadap pencegahan penyalahgunaan NAPZA. KEMAS: Jurnal Kesehatan Masyarakat, 10(2), 153–159.
Simangunsong, J. 2015. Penyalahgunaan Narkoba Di Kalangan Remaja (Studi kasus pada Badan Narkotika Nasional Kota Tanjungpinang). Program Studi Ilmu SosiologiFakultas Ilmu Sosial Dan PolitikUniversitas Maritim Raja Ali Haji Tanjungpinang.(E-Journal) Http://Hukum. Studentjournal. Ub. Ac. Id (Di Akses Pada 20.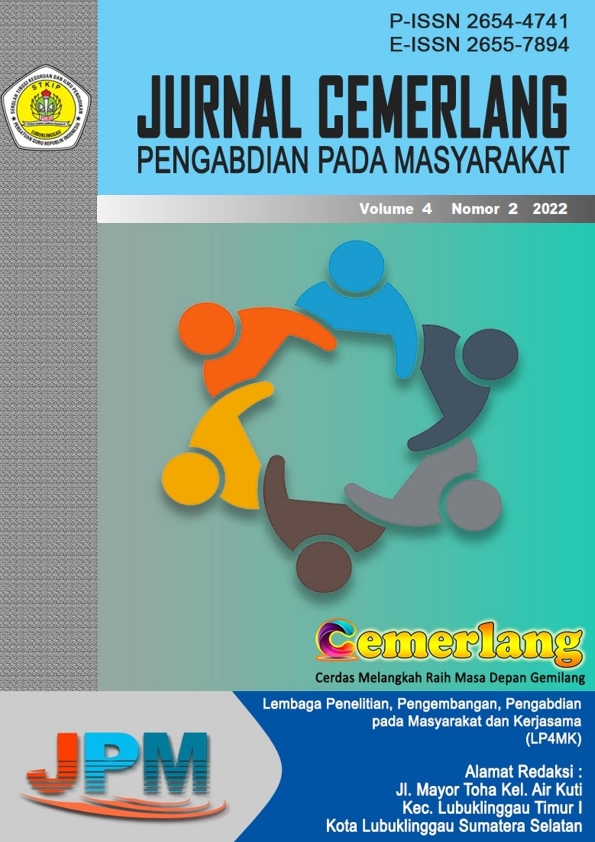 Jurnal Pengabdian Masyarakat by http://ojs.stkippgri-lubuklinggau.ac.id/index.php/JPM is licensed under a Creative Commons Attribution-ShareAlike 4.0 International License.