BIMTEKS PENGEMBANGAN SOAL AKM NUMERASI BAGI GURU DI PONPES TAZAKKA KABUPATEN MURATARA
Drajat Friansah

Universitas PGRI Silampari

Yufitri Yanto

Universitas PGRI Silampari
Abstract
The results of the 2021 National Assessment state that 2 out of 3 students have not achieved minimum competencies and there is a competency gap between students in Java and outside Java. One of the efforts in solving problems that occur is through technical guidance activities for teachers to develop AKM questions. This service aims to provide assistance in the development of AKM questions for teachers in the North Tazakka Musi Rawas Islamic Boarding School. The scope of development activities regarding AKM in the numeracy aspect.  The methods used include: 1) initial evaluation stage, 2) enrichment stage, 3) technical guidance stage, 4) mentoring stage, and 5) final evaluation stage. As a result of this service, participants have knowledge about cognitive levels, domain content and learning progression of AKM Numeracy as well as artifacts of activity participants in the form of AKM Numeracy questions.
References
Connie, C., Istaryatiningtias, I., & Ihsan, E. (2020) Pemberdayaan Guru melalui Pelatihan Penelitian Tindakan Kelas. Jurnal PKM: Pengabdian kepada Masyarakat, 3(1):22-30.

Farida, H. (2021). Pendampingan Guru Dalam Penyusunan Rencana Pelaksanaan Pembelajaran melalui Supervisi Akademik di SMK Negeri 2 Gorontalo. Jurnal Pengabdian Masyarakat: DIKMAS, 1(2):65-72.

Hake, R.R. (2002). Relationship of Individual Student Normalized Learning Gains in Mechanics With Gender, High School Physics and Pretest Scores on Mathematical and Spatial Visualization

Hasibuan, M. (2002). Manajemen Sumber Daya Manusia. Edisi Revisi Cetakan Keenam. Jakarta: PT Bumi Aksara.

Kemendikbud. (2020). Desain Pengembangan Soal AKM. Jakarta: Pusat Assesmen dan Pembelajaran Badan Penelitian dan Pengembangan Perbukuan Kementerian Pendidikan dan Kebudayaan.

Peraturan Menteri Pendidikan dan Kebudayaan Republik Indonesia Nomor 37 Tahun 2018 Tentang Perubahan Atas Peraturan Menteri Pendidikan dan Kebudayaan Nomor 24 Tahun 2016 Tentang Kompetensi Inti dan Kompetensi Dasar Pelajaran Pada Kurikulum 2013 Pada Pendidikan Dasar dan Pendidikan Menengah.

Rosa, N. (2022, April 1). detikedu. Retrieved from www.detik.com: https://www.detik.com/edu/edutainment/d-6011654/yang-ditunggu-ini-hasil-lengkap-asesmen-nasional-2021

Yusuf, M., & Hamami, T. (2022). Peran Guru Pendidikan Agama Islam Menyiapkan Peserta Didik dalam Menghadapi Asesmen Kompetensi Minimum. Jurnal Basicedu, 3012-3024.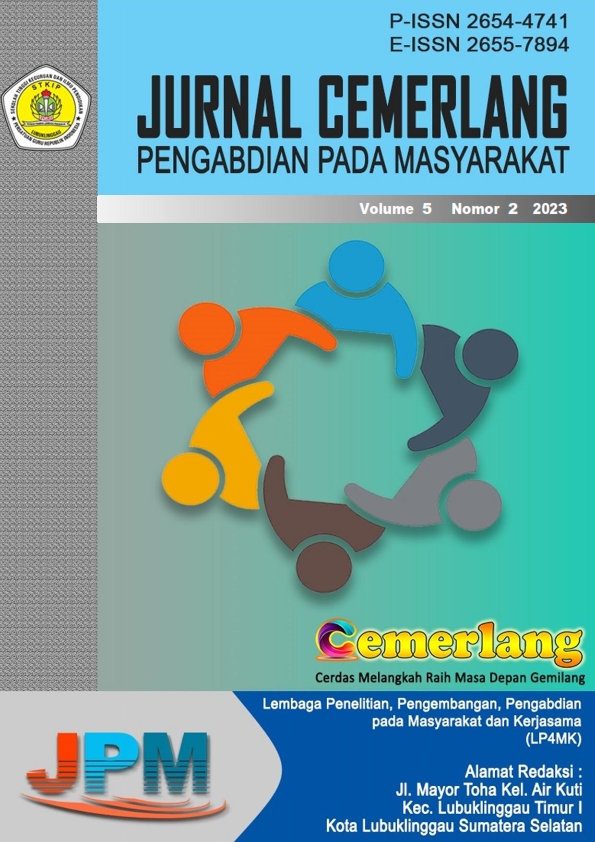 Jurnal Pengabdian Masyarakat by http://ojs.stkippgri-lubuklinggau.ac.id/index.php/JPM is licensed under a Creative Commons Attribution-ShareAlike 4.0 International License.