Sejarah Toponim Prabumulih sebagai Sumber Pembelajaran Sejarah
Indonesia
Marini Marini

Universitas PGRI Palembang, Indonesia

Kabib Sholeh

Universitas PGRI Palembang, Indonesia

Sukardi Sukardi

Universitas PGRI Palembang, Indonesia
Abstract
Abstract
          Prabumulih's toponym history is a source of the past from the origin of the name of the place to identity for the people who live in Prabumulih, which is a cultural outcome between local communities through history. The problem of this research is to find out how the history of the toponym of Prabumulih city can be used as a source of historical learning?. This study aims to determine the historical toponym values ​​of Prabumulih which can be used as a source of historical learning. The research method used is a qualitative descriptive method. Data collection techniques used are observation, interviews, and documentation. Data analysis techniques used are reducing data, presenting data, and drawing conclusions. From the results of the study it can be concluded that Prabumulih's toponym history has an important role for the school and for the community because it is a cultural outcome of community leaders who contain educational values ​​and historical values. Then the values ​​contained in Prabumulih's toponym history as a source of historical learning are historical values, social and cultural values, political values ​​and educational values. Which can be applied to Indonesian history subjects in class X at Prabumulih's Madrasah Aliyah Negeri 1 school, namely local history.
Keywords: Prabumulih Toponym, History Learning.
References
Azhar, Anang. (2013). Praboemoelih Riwajatmoe Doeloe. PrabumulihLarona Dempo.

Nugroho, Djawadi Hadi. (2013). Strategi Pembelajaran Geografi. Yogyakarta: Ombak.

Pratowo Andi. (2012). Panduan Kreatif Membuat Bahan Ajar Inovatif. Yogyakarta: Diva Press.

Purnomo. (2014). Metodologi Penelitian Sosial. Jakarta: Bumi Aksara.

Rif'at, Ahmad. (2019). Wawancara nilai-nilai toponim Prabumulih pada Man 1 Prabumulih, 53 tahun, 15 Mei 2019: pukul 09.00-10.00.

Refico, Apriansyah dan Zamhari. (2018). "Toponim pada masa pemerintahan kesultanan Palembang Darusallam Di Kecamatan Ilir Timur 1 Palembang". Siddhayatra. Vol. 23, No. 1, 50-51.

Segara. (2017). "Kajian Nilai Pada Toponomi Di Wilayah Kota Cirebon Sebagai Potensi Sumber Belajar Geografi". Jurnal Geografi. Vol. 14, No. 1, 55.

Sholeh, K. (2018, July). MASUKNYA AGAMA ISLAM DI PALEMBANG PADA MASA KERAJAAN SRIWIJAYA ABAD VII MASEHI. In PROSIDING SEMINAR NASIONAL PROGRAM PASCASARJANA.

Taftazani. (2004). Prabumulih Profile. Prabumulih: Alih Media.

Ulfah, Nury. B. dan Aman. (2019). "Perkembangan Pembelajaran Sejarah Pasca Kemerdekaan-reformasi". jurnal pendidikan sejarah. Vol. 8, No. 1, 21.

Wulan, dan Yunani. (2018). "Perkembangan Kehidupan Sosial Ekonomi Masyarakat Transmigran di Desa Karya Mulya Kecamatan Rambang Kapak Tengah Kota Prabumulih Tahun 1986-2016." Jurnal Unsri. 3.

Warwanto, H. J. (2014). Warwa In Pendidikan Religiositas - Gagasan, Isi, dan Pelaksanaannya . Yogyakarta: Kanisius.
Yusron. (2013). Statistik Daerah Kota Prabumulih. Prabumulih: Badan Pusat Statistik Kota Prabumulih.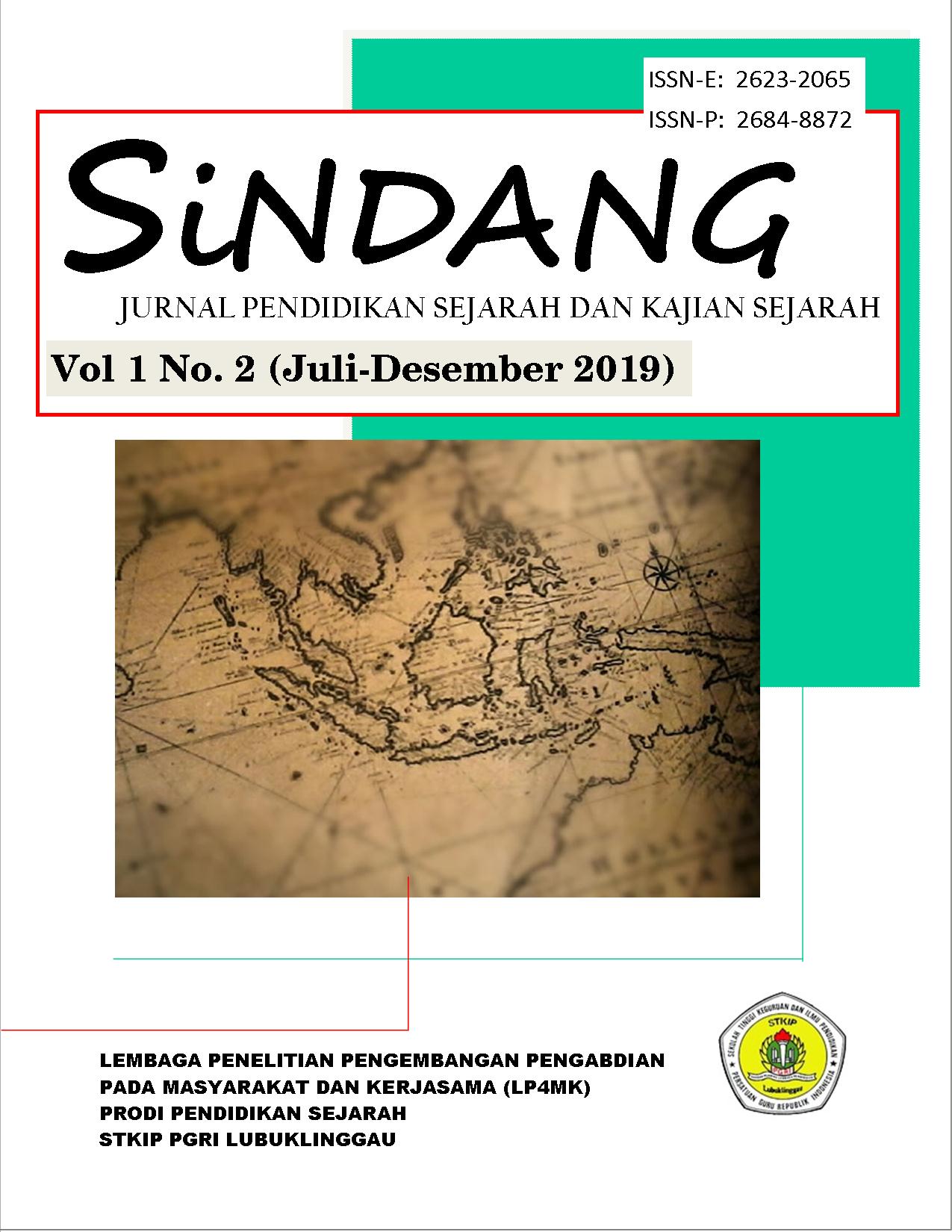 How to Cite
Marini, M., Sholeh, K., & Sukardi, S. (2019). Sejarah Toponim Prabumulih sebagai Sumber Pembelajaran Sejarah. SINDANG: Jurnal Pendidikan Sejarah Dan Kajian Sejarah, 1(2), 9-16. https://doi.org/https://doi.org/10.31540/sdg.v1i2.315