SOSIALISASI DAN PENDAMPINGAN PENYUSUNAN PEMBUKUAN SEDERHANA PRODUKSI INDUSTRI RUMAH TANGGA BERBASIS UBI KAYU DI DUSUN II KELURAHAN M. SITIHARJO
Febrina Nur Annisa

Universitas PGRI Silampari

Syabawaihi Syabawaihi

Universitas PGRI Silampari

Rio Rio

Universitas PGRI Silampari

Ahmad Marsehan

Universitas PGRI Silampari
Keywords:
Pelatihan, Pembukuan Sederhana, UMKM, Ubi kayu
Abstract
The objectives of this PKM activity are to (1) provide an understanding of the benefits of having bookkeeping in business administration, and (2) provide assistance to UMKM entrepreneurs who are the target group regarding procedures for compiling simple bookkeeping, especially in calculating the cost of production and profit and loss. The stages of implementation in PKM: the preparation stage, the training/socialization stage, the implementation stage, and the evaluation stage. This cassava-based processing business carried out by women in the M.Sitiharjo sub-district has adequate business prospects, and is possible to develop in the future. The implementation of this community service took place due to the open, adaptive and enthusiastic attitude of the participants. This situation, the existence of business potential for development, the expectations expressed by participants for this PKM activity to continue, as well as the existence of government policies to encourage the downstream of various products became the basis for consideration for the team to continue PKM activities in cassava-based home industry business groups that in the village of M. Sitiharjo.
References
Ali, Suparman; F, Inggriyani;D.P, Pauzi.(2018).Pelatihan Pembukuan Sederhana Bagi PelakuUsaha kerajian Anyam Mendong di Kecamatann Rajapalah kabupaten tasikmalaya.

Hapsari, Andari,Hasanah.(2017). Model pembukuan Sederhana bagi Usaha Mikro Di Kecamatan Kramatwatu Kabupaten Serang. Jurnal Akutansi. Vol 4 No . 2 Juli 2017

Sepitriayani, Veronika Indah.(2017).Potensi Pemanfaatan Singkong (Manihot Utilissima) Sebagai Bahan Tambahan dalam Pembuatan Es Puter Secara Tradisional. Skripsi. Keguruan dan Ilmu Pendidikan. Universitas Sanata Dharma.Yogyakarta.

Subur, Rahmad Santoso dan Hasyim Muhammad.(2014).Pelatihan Manajemen Keuangan pada Pelaku usaha Toko kelontong Dusun Puluban Desa Banyusidi Pakis Magelang Jawa Tengah. Jurnal Inovasi dan kewirausahaan,3 (3),139

Wahyuningsih, E Dwi , Setiawati; T,A, Prasojo.2017. "Pemberdayaan Pelaku Usaha Mikro Dengan Memberikan Pelatihan Pembukuan Sederhana di Desa Bangunejo Kecamatan Patebon Kabupaten Kendal". Prosiding seminar nasional publikasi hasil-hasil penelitian dan pengabdian masyarakat. Universitas Muhammadiyah Semarang, 30 september 2017.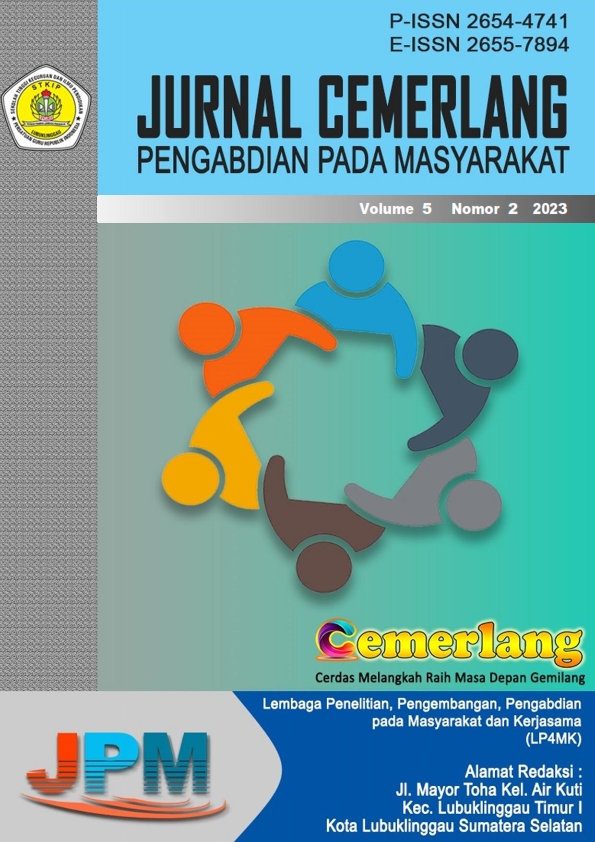 Jurnal Pengabdian Masyarakat by http://ojs.stkippgri-lubuklinggau.ac.id/index.php/JPM is licensed under a Creative Commons Attribution-ShareAlike 4.0 International License.