ANALISIS KESALAHAN SISWA DALAM MENYELESAIKAN SOAL PADA MATERI OPERASI MATRIKS DI SMA YABT MANOKWARI
DEWI WAHYUNINGSIH

PENDIDIKAN
Abstract
This research aims to describe the types and causes of mistakes made by grade XI IPA students in YABT Manokwari senior high school in resolving questions about matrix operating materials. The type of research used in this research is qualitative descriptive, this type of research is part of qualitative research. In the research subjects, there were as many as 32 students given a description test, then grouped into 3 categories for interviews. The results of the research obtained that the mistakes made by students are as follows: (i) error in organizing data amounted to 29.2%; (ii) a draft error amounted to 37.5%; (iii) error due to carelessness amounted to 54.2%; and (iv) errors in drawing conclusions amounted to 58.3%. The caused of the error was because students were less thorough in reading and interpreting questions, lack of understanding of the concepts to be used, less thorough in doing calculations and rushing so they forgot to conclude the final answer.
References
Bronson, Richard. 1989. Schaum's Outline of Theory and Problems of Matrix Operations. USA: The McGraw-Hill Companies, Inc.

BSNP. 2006. Permendiknas No.22 Tentang Standar Isi SMA/MA. Jakarta: Depdiknas.

Chang, Fei Lai. 2012. Error Analysis in Mathematics. Eugene: Behavioral Research and Teaching Universirty of Oregon.

Fitriani, H.N, dkk. 2018. "Analysis of students error in mathematical problem solving based on Newman's error analysis." International Conference on Mathematics and Science Education of Universitas Pendidikan Indonesia. Volume 3, 791 – 796.

Moleong, Lexy J. 2000. Metodologi Penelitian Kualitatif. Bandung: PT Remaja Rosdakarya.

Noormandiri, B. K. 2016. Matematika Jilid 2 Untuk SMA/MA Kelas XI Kelompok Wajib. Jakarta: Erlangga.

Uno, Hamzah. 2007. Model Pembelajaran. Jakarta: PT Bumi Aksara.

Tim Penyusun. 2012. Kamus Besar Bahasa Indonesia (KBBI) Edisi Baru. Jakarta: Tim Pustaka Phoenix.

Pandra, V. (2016). EFEKTIVITAS PEMBELAJARAN PROBLEM SOLVING DALAM PEMBELAJARAN TEOREMA PHYTAGORAS KELAS VIII SMP NEGERI 2 LUBUKLINGGAU. Jurnal Perspektif Pendidikan, 10(2), 59-70.

Pandra, V. (2011). Hubungan Teman Sebaya dan Minat Belajar terhadap Prestasi Belajar Matematika SISWA SMP. Jurnal Perspektif Pendidikan, 4, 59-68.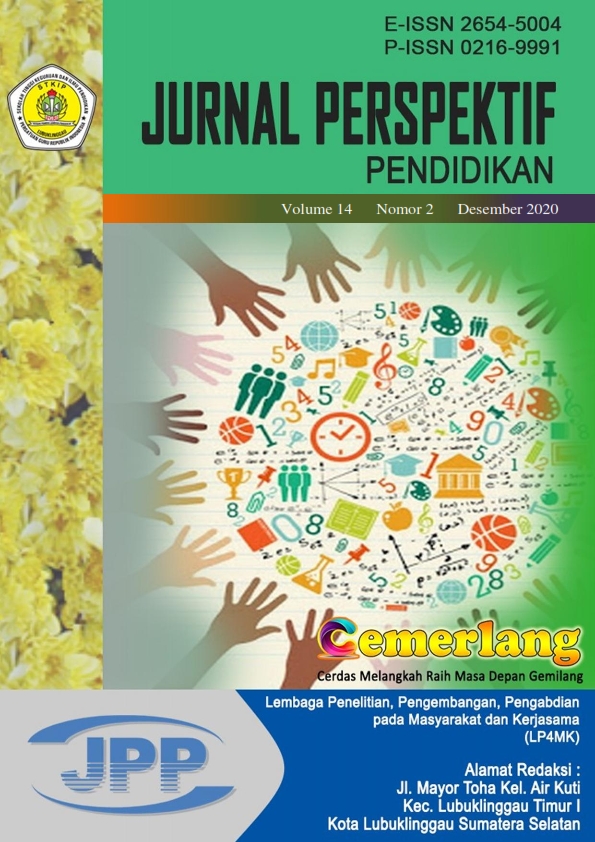 This work is licensed under a Creative Commons Attribution-NonCommercial-ShareAlike 4.0 International License.

Jurnal Perspektif Pendidikan by https://www.ojs.stkippgri-lubuklinggau.ac.id/index.php/JPP is licensed under a Creative Commons Attribution-NonCommercial-ShareAlike 4.0 International License.