PENGARUH MODEL STUDENT TEAM ACHIEVEMENT DIVISION TERHADAP KEMAMPUAN PEMECAHAN MASALAH MATEMATIKA SISWA KELAS VII
Permana Akbar

STKIP PGRI Lubuklinggau, Indonesia

Efuansyah E.

STKIP PGRI Lubuklinggau, Indonesia

Maria Luthfiana

STKIP PGRI Lubuklinggau, Indonesia
Keywords:
Influence, STAD, Problem Solving Ability
References
Arhasy, E., Rustina, R., & Heryani, Y. (2015). Kontribusi Pembelajaran Kontekstual dengan Teknik SQ4R terhadap Peningkatan Kemampuan Pemahaman dan Berpikir Kritis Matematis. Jurnal Siliwangi,1(1), 21-31.

Arikunto, S. (2010). Prosedur Penelitian Suatu Pendekatan Pratik. Jakarta: Rineka Cipta.

Astrawan, Ngurah dkk (2015). Pengaruh Pembelajaran Kooperatif Tipe Student Team Achievement Division Terhadap Aktivitas Siswa dan Hasil Belajar Matematika Pada Siswa Kelas VIII di SMP Negeri 2 Sukasada. E-Journal Program Studi Administrasi Pendidikan UNDIKSHA Singaraja, 6(1).

Azizah, G., & Sundayana, R. (2016). Kemampuan Pemecahan Masalah Matematis dan Sikap Siswa Terhadap Model Pembelajaran Kooperatif Tipe Air dan Probing-Promting. Jurnal Mosharafa Pendidikan Matematika STKIP Garut, 5(3), 305-314.

Baharudin, E. (2015). Teori Belajar dan Pembelajaran. Yogyakarta: Ar-Ruzz Media.

Efuansyah, & Wahyuni, R. (2019). Optimalisasi Kemampuan Pemecahan Masalah Matematika melalui Model Means-Ends Analysis di Kelas VIII. Journal of Mathematics Science and Education (JMSE), 1(2), 17-27

Fauzih, A. (2010). Peningkatan Kemampuan Pemahaman dan Pemecahan Masalah Matematika Siswa SMP melalui Strategi Relating, Experiencing, Applying, Cooperating, and Tranferring (REACT). Forum Kependidikan, 30(1), 1-13.

Hartono, R. (2013). Ragam Model Belajar Yang Mudah Diterima Murid. Yogyakarta: Diva Press.

Herlawan, & Hadija. (2017). Peningkatan Kemampuan Pemecahan Masalah Matematis Siswa Kelas VII melalui Penerapan Model Pembelajaran Creative Problem Solving (CPS) Berbasis Kontekstual.Jurnal Penelitian Pendidikan dan Pengajaran Matematika, 3(1), 33-38.

Iriani, D., & Leni, M. (2013). Identifikasi Gaya Belajar dan Pengaruhnya terhadap Hasil Belajar Siswa pada Materi Kubus dan Balok di kelas VIII SMPN 2 Kerinci. Journal Prosiding Semirata FMIPA Universitas Lampung, 1(1), 109-114.

Isjoni. (2010). Cooperative Learning Efektifitas Pembelajaran Kelompok. Bandung: Alfabeta.

Luthfiana, Maria., Yuliasnyah., & Fauziah, Anna. (2018). Pengaruh Model Pembelajaran Berbasis Masalah Terhadap Kemampuan Pemecahan Masalah Matematika. Jurnal Pendidikan Matematika : Judika Education, 1(1)

Wahyuni, Reny., & Efuansyah. (2018). Model Pembelajaran Missouri Mathematics Project (MMP) Menggunakan Strategi Think Talk Write (TTW) Terhadap Kemampuan Berpikir Kritis Dan Kemampuan Pemecahan Masalah. Jurnal Nasional Pendidikan Matematika, 2(1), 24.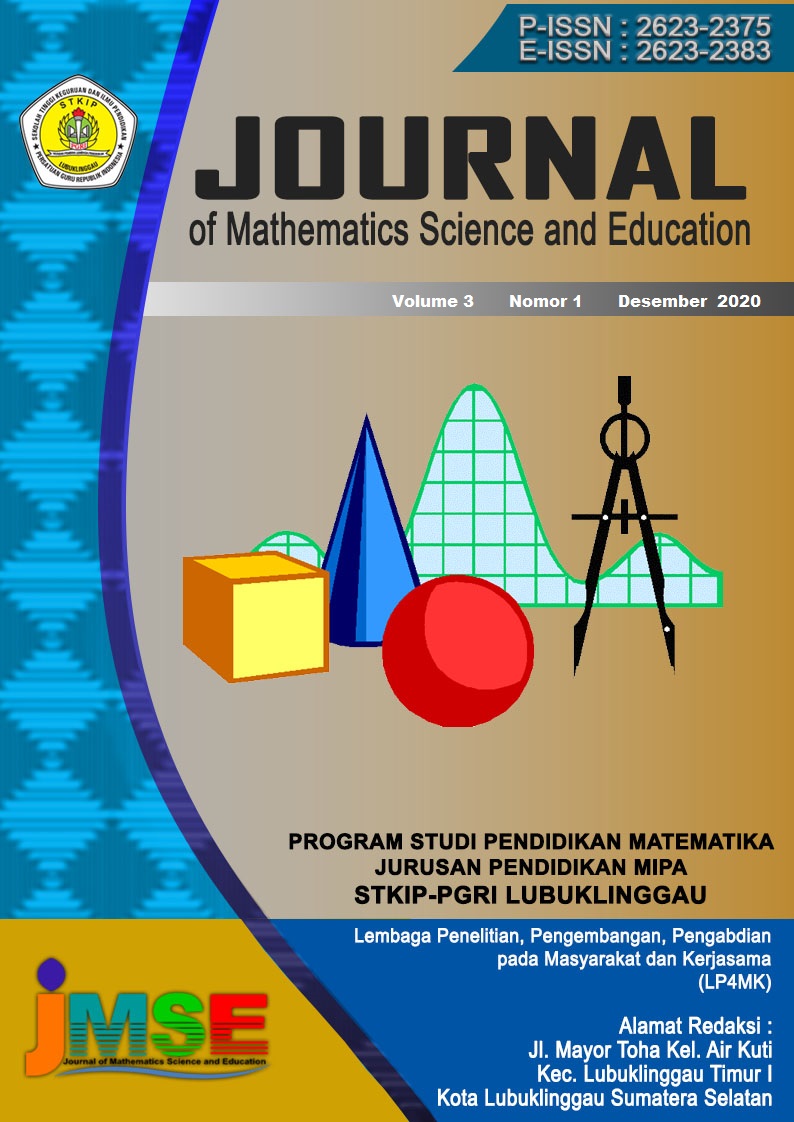 How to Cite
Akbar, P., E., E., & Luthfiana, M. (2020). PENGARUH MODEL STUDENT TEAM ACHIEVEMENT DIVISION TERHADAP KEMAMPUAN PEMECAHAN MASALAH MATEMATIKA SISWA KELAS VII. JOURNAL of MATHEMATICS SCIENCE and EDUCATION, 3(1), 1-7. https://doi.org/https://doi.org/10.31540/jmse.v3i1.1034

This work by Journal of Mathematics Science and Education is licensed under a Creative Commons Attribution-NonCommercial-ShareAlike 4.0 International License.