BIMBINGAN BELAJAR BAHASA INGGRIS GRATIS UNTUK SISWA MI YA BUNAYYA HIDAYATULLAH MANOKWARI
Syahira Syahira

STKIP Muhammadiyah Manokwari

Heriyanti Heriyanti

Universitas Muhammadiyah Sorong
Keywords:
Tutoring, english, students
Abstract
It is undeniable that English is one of the subjects that is a scourge for most students. On the other hand, whether we realize it or not, English is indispensable in various aspects of science and everyday life. This activity aims to provide assistance to students at MI Ya Bunayya Hidayatullah Manokwari. Mentoring activities are carried out by providing private tutoring. In each activity students are separated into small groups of 1-3 people according to their respective grade levels. With this method, all students can participate in more intensive learning activities. If you pay attention, it can be seen that the enthusiasm and motivation of students to learn is increasing. It is hoped that this activity can trigger the enthusiasm of the students to enjoy and learn English more.
References
Abbas, S. (2006) Pembelajaran bahasa Indonesia yang efektif di sekolah dasar.
Jakarta: Depdiknas.

BNSP. (2006) Standar Kompetensi dan Kompetensi Dasar bahasa Inggris SD/MI.
Jakarta: BNSP.

Brown, H. Douglas. (2004). Language Assessment: Principles and Classroom Practices. New York: Pearson Education, Inc.

Nation, I.S.P. (2009). Teaching ESL/EFL Reading and Writing. Taylor & Francis: Routledge.

Paris, Scott G., Carpenter, Robert D., Paris, Alison H., and Halminton, Ellen E. (2005). Spurious and Genuine Correlates of Children's Reading Comprehension. In Paris and Stahln (Eds.), Children's Reading Comprehension and Assessment. New Jersey: Lawrence Erlbaum Associate.

Rukmana. (2006) Evaluasi pembelajaran sekolah dasar. Bandung: UPI Press.

Thornbury, Scott. (2003). How to Teach Grammar. New York: Cambridge University Press.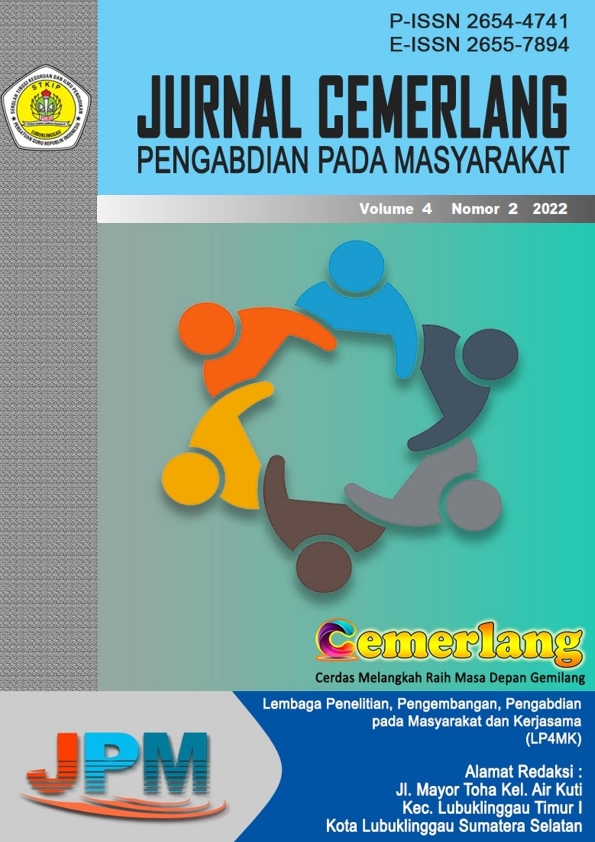 Jurnal Pengabdian Masyarakat by http://ojs.stkippgri-lubuklinggau.ac.id/index.php/JPM is licensed under a Creative Commons Attribution-ShareAlike 4.0 International License.