PERBANDINGAN METODE LATIHAN SIRKUIT DAN KONVENSIONAL TERHADAP PRESTASI LOMPAT JAUH SISWA SMAN SE-KOTA LUBUKLINGGAU
Muhammad Suhdy

STKIP PGRI LUBUKLINGGAU

Ever Sovensi

STKIP PGRI LUBUKLINGGAU

Muhammad Supriyadi
Keywords:
Metode Latihan, Prestasi Lompat Jauh
Abstract
The purpose of this study was to determine the comparison of circuit training methods and conventional training methods to the squat-style long jump achievement of high school students in the Lubuklinggau Municipal High School. This type of research is quantitative by using a quasi-experimental method. The population of this study was all of the 9 Public Schools in Lubuklinggau. The sample in this study amounted to 80 students in which 27 students from SMAN 5, 27 students from SMAN 6 and 26 students from SMAN 7 in Lubuklinggau City with a purposive sampling technique. The data collection places at SMAN 5, SMAN 6 and SMAN 7, Lubuklinggau City were conducted from April to June 2019. The data collection technique used was the long jump test and the data analysis technique used was the t-test. The results of this study explain that: The circuit training method has an influence on the improvement of long jump achievement participants in the SMAN extracurricular activities throughout the City of Lubuklinggau, The conventional training method has an influence on improving the long jump achievement of the participants of the SMAN extracurricular activities in the Lubuklinggau City, the circuit training method has an influence better than conventional training methods on the long jump achievement of participants in the extracurricular activities at the Lubuklinggau Municipal High School.
References
Irawadi, Hendri. 2010. Kondisi Fisik dan Pengukurannya.Padang : FIK Universitas Negeri Padang.

Nurmai, Erizal. 2005. Buku Ajar atletik. Padang : Fakultas Ilmu Keolahragaan Universitas Negeri Padang.

Ridwan. 2004. Belajar Mudah Penelitian Untuk Guru, Karyawan Dan Peneliti Pemula. Bandung : Alfabeta

Soekarman. R. 1986. Dasar Olahraga Untuk Pembina, Pelatih dan Atlet. Jakarta: Inti ida Ayu Press.

Suharno, 1993. Penyusunan Program latihan. Jakarta : Komite olahraga Nasional Indonesia, Puasat Pendidikan dan Penataran.

Syafruddin. 1992. Pengantar Ilmu Melatih. Padang: FPOK IKIP.

Syarifuddin, Aip dan Muhadi, 1992. Pendidikan Jasmanai dan Kesehatan.Jakarta: Depertemen P dan K Direktorat Jendral Pendidikan Tinggi Progek Pembinaan Tenga kependidikan

Tengku Zahara Djaafar, 2001. Kontribusi Srategi Pembelajaran Terhadap Hasil Belajar. Jakarta: Depdiknas.

Undang-Undang Negara Ripublik Indonesia No. 3. 2005. Sistem Keolahragaan Nasional. Jakarta: Menpora.

Yatim Riyanto, 2008. Pradigma Baru Pembelajaran. Jakarta: Prenada Media Group.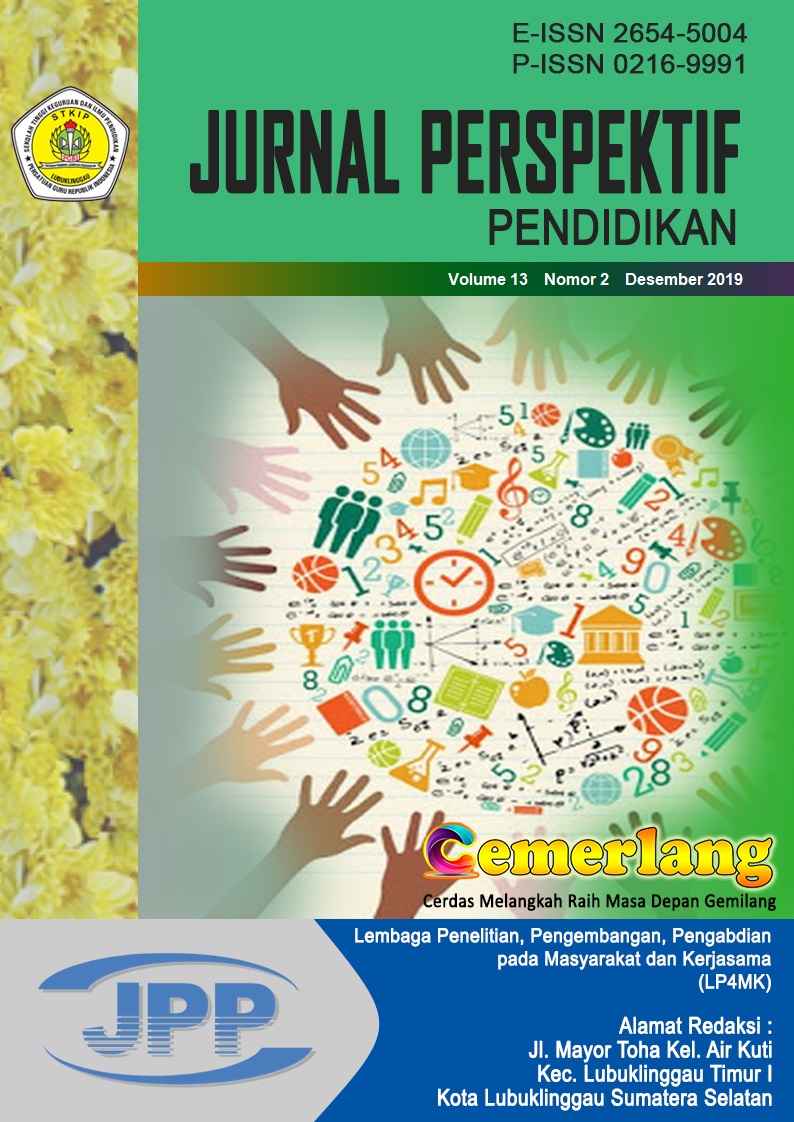 Jurnal Perspektif Pendidikan by https://www.ojs.stkippgri-lubuklinggau.ac.id/index.php/JPP is licensed under a Creative Commons Attribution-NonCommercial-ShareAlike 4.0 International License.