PERBANDINGAN MODEL PEMBELAJARAN SCAFOLDING DAN ARTIKULASI TERHADAP KECAKAPAN HIDUP DENGAN MEMPERHATIKAN EMOTIONAL QUESTION SISWA
Suroto Suroto

universitas lampung

Tedi Rusman

Universitas Lampung, Indonesia

Erzal Syahreza Aswir

Universitas Lampung, Indonesia
Abstract
Students who lack life skills will tend to be difficult to achieve success. This study aims to determine the comparison of life skills of students whose learning uses Scaffolding and Articulation learning models by paying attention to students' Emotional Quetions (EQ). The research method used was quasi-experimental with a comparative approach. The research design used is treatment by level. The subjects in this study were students of class VIII MTs NU 5 Sekampung East Lampung. Testing the hypothesis of this study used a two-way variance analysis formula and two independent sample t-tests. The results of this study indicate (1) There are differences in life skills between students whose learning uses the Scaffolding and Articulation models in Integrated Social Studies subjects, (2) Life skills whose learning using the Scaffolding model is higher than using the Articulation model for students who have Emotional Quetions ( EQ) is high, (3) Life skills learning using the Articulation model is higher than using Scaffolding models for students who have low Emotional Quetions (EQ), (4) There is an interaction between the use of learning models and Emotional Quetions (EQ) on life skills .
References
Adinegara. 2010. Vygotskian Perspective: Proses Scaffolding untuk mencapai Zone of Proximal Development (ZPD). dari: http://dlog.Unnes.ac.id/adinegara/2010/03/04/ vygotskianperspectiveproses-scaffolding-untuk-mencapai-zone-of-proximaldevelopment-zpd/
Anwar. 2006. Pendidikan Kecakapan Hidup. Bandung: CV Alvabeta.
Arikunto, S. 2013. Dasar-Dasar Evaluasi Pendidikan. Jakarta: PT Bumi Aksara
_________. 2013. Manajemen Penelitian. Jakarta: Bineka Cipta
Goleman, Daniel. 2016. Emotional Intelligennce. Jakarta. PT Gramedia Pustaka Utama.
Herpratiwi. 200. Teori belajar dan Pembelajaran.Universitas Lampung: Bandar Lampung.
Huda, M. 2013.Model-model Pengajaran danPembelajaran.Yogyakarta: Pustaka Belajar.
Maliki, Z. 2008. Sosiologi Pendidikan. Yogyakarta: Gadjah Mada University.
Ngalimun, 2012. Strategi dan Model Pembelajaran. Banjarmasin. Scripta Cendekia.
_______. 2014. Strategi dan Model Pembelajaran. Yogyakarta: Aswaja Pressindo
Samani, M. 2007. Menggagas Pendidikan Bermakna Integrasi Life Skill-KBK-CTL-MBS. Surabaya; SIC
Sugiyono. 2013. Metode Penelitian Kuantitatif Kualitatif dan R&D. Bandung: Alfabeta.
Wahab, A.A. 2012. Metode Dan Model-Model Mengajar. Bandung: PT Alfabeta.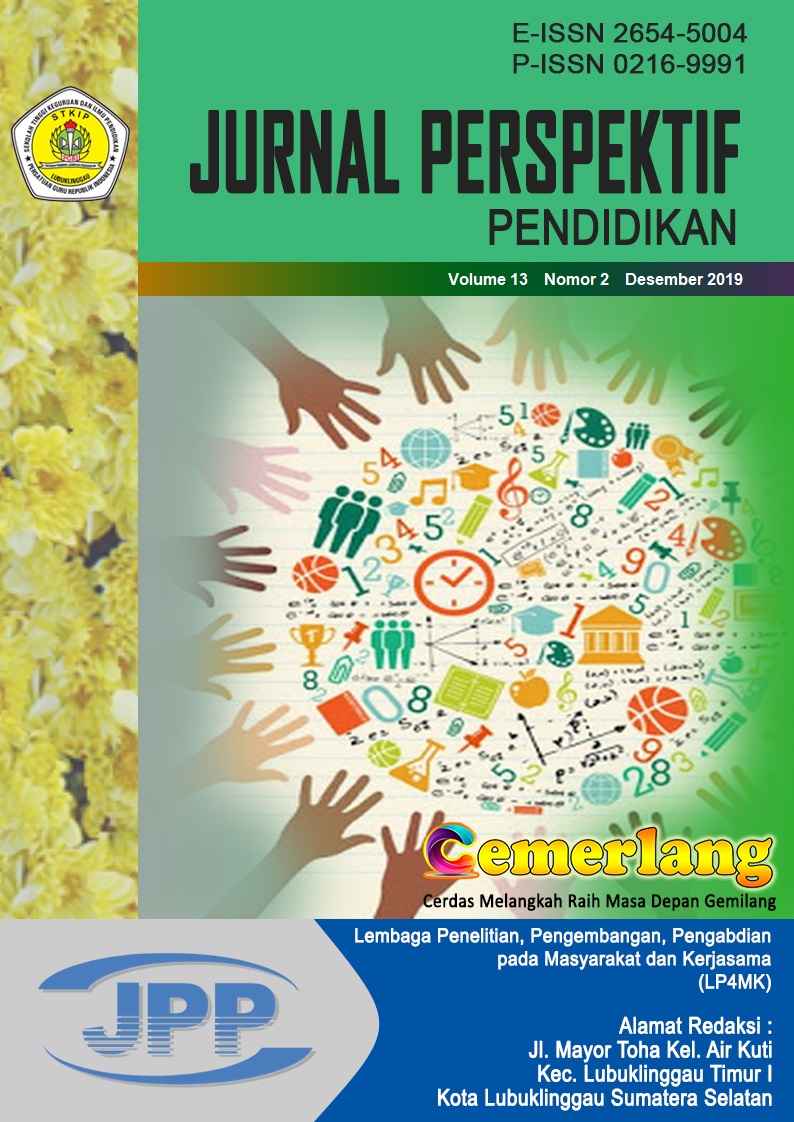 Jurnal Perspektif Pendidikan by https://www.ojs.stkippgri-lubuklinggau.ac.id/index.php/JPP is licensed under a Creative Commons Attribution-NonCommercial-ShareAlike 4.0 International License.