ANALISIS KESULITAN GURU MENERAPKAN PEMBELAJARAN TEMATIK KURIKULUM 2013 KELAS V SD NEGERI 61 LUBUKLINGGAU
bayu bangsawan

STKIP PGRI Lubuklinggau, Indonesia

Akmal Rijal

STKIP PGRI Lubuklinggau, Indonesia

Zico Fakhrur Rozi

STKIP PGRI Lubuklinggau, Indonesia
Abstract
The aims of this research are to describe and to know the difficulties of teachers in implementing 2013 curriculum by using thematic learning in grade V SD Negeri 61 Lubuklinggau. The method in this research was descriptive method through a qualitative approach. The data collection techniques used in this study were observation, interview, documentation and triangulation techniques. The results of this research showed that the difficulties of grade V teachers were divided into three main components, namely in the learning planning stage was the difficulties in preparing lesson plans, in the learning implementation stage was the difficulties in implementing core activities, and in the assesment stages were the difficulties in assessing skills, assessing the learning process, and assesing attitude. In addition, there were also factors causing teacher difficulties, namely: (1) Teacher ability Factors (2) Factors from students (3) and Time allocation factors. Therefore, there are some ways to do in order to overcome teacher difficulties : (1)The Teacher must understand thematic learning, especially in the preparation of lesson plan, (2) The teacher must be creative in using a variety of learning media to attract students' focus in learning and create a good atmosphere in learning process, (3) Cooperate and exchange ideas with other teachers in determining assessment indicators and time allocation.
References
Fadlillah, M. (2014). Implementasi Kurikulum 2013 Dalam Pembelajaran SD/MI, SMP/MTS, & SMA/MA. Ar-Ruzz Media: Yogyakarta.
Nuraini & Abidin, Z. (2020). Kesulitan Guru Dalam Mengimplementasikan Pembelajaran Tematik Terintegratif di Sekolah Dasar. Jurnal Pendidikan Dasar dan Pembelajaran. 10 (1), 49-62.
Rasidi, M. A & Setiawati, F. A. (2015). Faktor-Faktor Kesulitan Guru Pada Pembelajaran Tematik-Integratif di SD Kota Mataram. Jurnal Prima Edukasia. 3 (2), 155-165.
Setiadi, H. (2016). Pelaksanaan Penilaian Pada Kurikulum 2013. Jurnal Penelitian dan Evaluasi Pendidikan. 20 (2), 166-178.
Sugiyono. (2017). Metode Penelitian Pendidikan (Pendekatan Kuantitatif, Kualitatif, dan R&D). Alfabeta: Bandung.
Suyanto dan Jihad, A. (2013). Menjadi Guru Profesional (Strategi Meningkatkan Kualifikasi dan Kualitas Guru di Era Global). Jakarta: Esensi Erlangga Group.
Trianingsih, Rima. (2016). Pengantar Praktik Mendidik Anak Usia Sekolah Dasar. IAIN Syekh Nurjati Cirebon Journals. 3 (2), 197-211.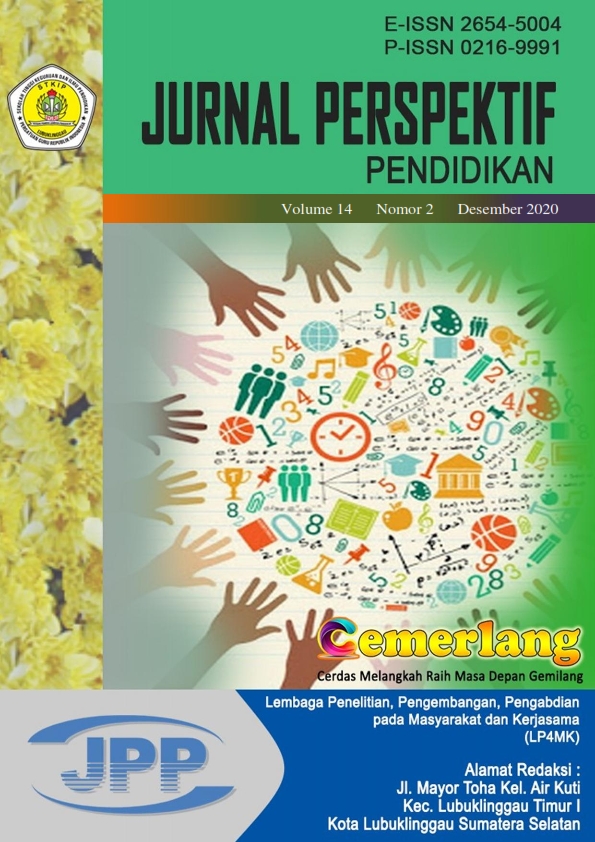 This work is licensed under a Creative Commons Attribution-NonCommercial-ShareAlike 4.0 International License.

Jurnal Perspektif Pendidikan by https://www.ojs.stkippgri-lubuklinggau.ac.id/index.php/JPP is licensed under a Creative Commons Attribution-NonCommercial-ShareAlike 4.0 International License.