PELATIHAN PEMBUATAN DAN PEMASARAN PENGHARUM DARI BIJI KOPI DI DESA MOJOREJO KECAMATAN SELUPU REJANG KABUPATEN REJANG LEBONG
PELATIHAN PEMBUATAN DAN PEMASARAN PENGHARUM DARI BIJI KOPI DI DESA MOJOREJO KECAMATAN SELUPU REJANG KABUPATEN REJANG LEBONG
Ria Dwi Jayati

Universitas PGRI Silampari

Nur Fitriyana

Universitas PGRI Silampari

Eka Lokaria

Universitas PGRI Silampari

Linna Fitriani

Universitas PGRI Silampari
Keywords:
Training, Manufacturing, Marketing, Fragrance, Coffee Beans
Abstract
The Community Partnership Program that our team proposes is expected to help the people of Mojorejo Village in the manufacture and marketing of fragrances from coffee beans. Mojorejo Village located in Selupu Rejang District is an agricultural area that produces many types of agricultural crop commodities in the form of vegetables and coffee. Not many people know that apart from being sold raw and made into coffee grounds, they can also be used as fragrances. The fragrance from the coffee beans produced can be used as a car or room fragrance. Fragrances from the coffee beans produced can be traded offline or online at competitive prices. Thus the product in the form of fragrance from coffee beans can also increase income for residents. But unfortunately, the people of Mojorejo Village do not yet have the knowledge and skills in making and marketing coffee beans as air fresheners or cars. To achieve this goal, we as a team tried to use four methods, namely observation, socialization, training and continued with direct practice. The long-term goal of this activity is to create business opportunities for the residents of Mojorejo Village by using coffee beans to make air fresheners for rooms and cars. The output targets of the activity are (1) knowledge, skills and income of partners increase, (2) produce a product in the form of fragrance from coffee beans. Publication output target: service results published in community service journals.
References
Ananda, S., Febriansyah, R. R., & Murti, F. N. (2021). Inovasi Produk Kopi sebagai Pendukung Ekonomi Kreatif Wisata Batu Purba Desa Sucolor. Jurnal Pengabdian UntukMu NegeRI, 5(2), 94-100.

Dahlan, A. S. A. 2020. Formulasi Pengharum Ruangan Aroma Kopi Dengan Minyak Nilam Sebagai Fiksatif Terhadap Ketahanan Wangi Pengharum Ruangan Alami. Skripsi Program Studi Agroindustri D-IV Politeknik Pertanian Negeri Pangkajene dan Kepulauan. https://repository.polipangkep.ac.id

Febriyanti, R., Riyanta A.B. 2018. Pengaruh Kombinasi Ekstrak Biji Kopi dan Rimpang Jahe Terhadap Sifat Fisik Sediaan Foot Sanitizer Spray. Jurnal Para Pemikir Volume7 Nomor 2 Juni2018. p-ISSN:2089-5313e-ISSN:2549-5062.

Mayasiana, N. A. (2022). Pemberdayaan Perempuan dengan Pelatihan Merajut dan Membuat Parfum Ruangan dari Limbah Kopi. Majalah Ilmiah Pelita Ilmu, 4(1), 51-67.

Wikipedia. 2022. Selupu Rejang, Rejang Lebong. Diakses: 12 Maret 2020. https://id.wikipedia.org/wiki/Selupu_Rejang,_Rejang_Lebong.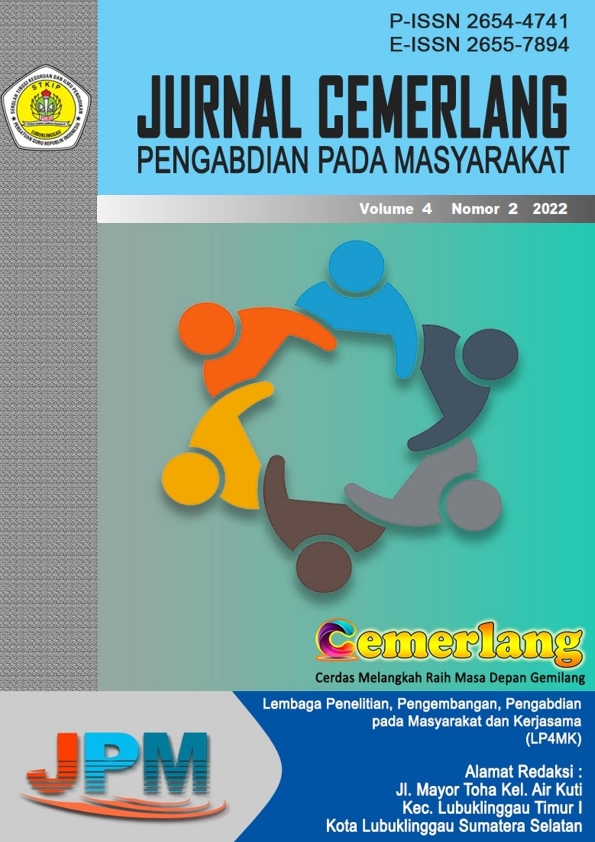 Jurnal Pengabdian Masyarakat by http://ojs.stkippgri-lubuklinggau.ac.id/index.php/JPM is licensed under a Creative Commons Attribution-ShareAlike 4.0 International License.