PENERAPAN MODEL PEMBELAJARAN MAKE A MATCH TERHADAP HASIL BELAJAR SISWA KELAS IV SD NEGERI I BANPRES
Irma Erfiana

Universitas PGRI Silampari

Eka Lokaria

Universitas PGRI Silampari

Dedy Firduansyah

Universitas PGRI Silampari
Abstract
 This study aims to determine the completeness of student learning outcomes after applying the Make A Match Learning Model in Social Studies subjects for fourth grade students of SD Negeri 1 Banpres. This type of research is quantitative research and the research method used is quasi-experimental research using pre-test and post-test research designs. Using multiple choice questions totaling 14 questions. The research sample is a class, namely class IV A consisting of 28 students and. The data analysis technique used the following steps: normality test, Z test. The average pre-test score was 47.70 and the post-test average was 85.20. Based on the results of the z-test analysis, the value of Zhitung (8.58) and Ztable 1.64 if compared, then Zhitung > Ztable. For the final test at a significant level of 0.05, it can be concluded that the social studies learning outcomes of Grade IV students at SD Negeri 1 Banpres after the Make A Match Learning Model were significantly completed.
References
Abdul,(2005). Pengaruh Model Pembelajaran Kooperatif tipe Think Pair Share Terhadap Hasil Belajar PKn Siswa Di Kelas IV MI Terpadu Muhammadiyah Sukarame Bandar Lampung. UIN Raden Intan Lampung. Jurnal Pendidikan dan Pembelajaran Dasar 4, (2), Hal.107-123.

Ahmad Jazim.(2016). Pengaruh Penerapan Model Induktif kata Bergambar Terhadap Keterampilan Menulis Narasi siswa Sekolah Dasar. Universitas Surabaya, 03, (01).

Aliputri, D, H (2018). Penerapan Model Pembelajaran Kooperatif tipe Make A Match berbantuan kartu bergambar untuk meningkatkan hasil belajar siswa. Jurnal Bidang Pendidikan Dasar, (JBPD), 2 (1) april 2018.

Anam, K. (2017). Pembelajaran Berbasis Inkuiri. Yogyakarta: Pustaka Pelajar.

Arikunto. (2013). Prosedur Penelitian: Satuan Pendekatan Praktik. Jakarta: Rineka Cipta.

Bay, R. R., Algiranto, A., & Yampap, U. (2021). Penggunaan Media Microsoft Power Point Untuk Meningkatkan Pemahaman Siswa Sekolah Dasar. Jurnal Elementary: Kajian Teori dan Hasil Penelitian Pendidikan Sekolah Dasar, 4(2), 125-133.

Danim, S. (2010). Pengantar Pendidikan. Bandung: Alfabeta.

Nikat, R. F., Algiranto, A., Loupatty, M., & Henukh, A. (2022). Pemahaman Konsep Dinamika dan Kinematika Berdasarkan Conceptual Knowledge Melalui Aplikasi Game Quizizz. Jurnal Pendidikan Sains Indonesia, 10(2), 218-230.

Samatowa, U. (2016). Dasar Pembelajaran IPA di Sekolah. Jakarta: Hak Cipta Bahasa Indonesia.

Shoimin, A. (2017). 68 Model pembelajaran inovatif dalam Kurikulum 2013. Depok, Yogyakarta: Ar-Ruzz Media.

Sulistiyono, S. (2022). Pengembangan Modul Pembelajaran Fisika Berbasis Scientific Investigation untuk Meningkatkan Kemandirian Belajar dan Penguasaan Materi Siswa SMA. JagoMIPA: Jurnal Pendidikan Matematika dan IPA, 2(1), 33-41.

Thobirin, (2016), Belajar dan Pembelajaran. Yogyakarta: AR- Ruzz Media.

Tirtaraharda, U., Sulo, L. (2015). Pengantar Pendidikan. Jakarta: Rineka Cipta.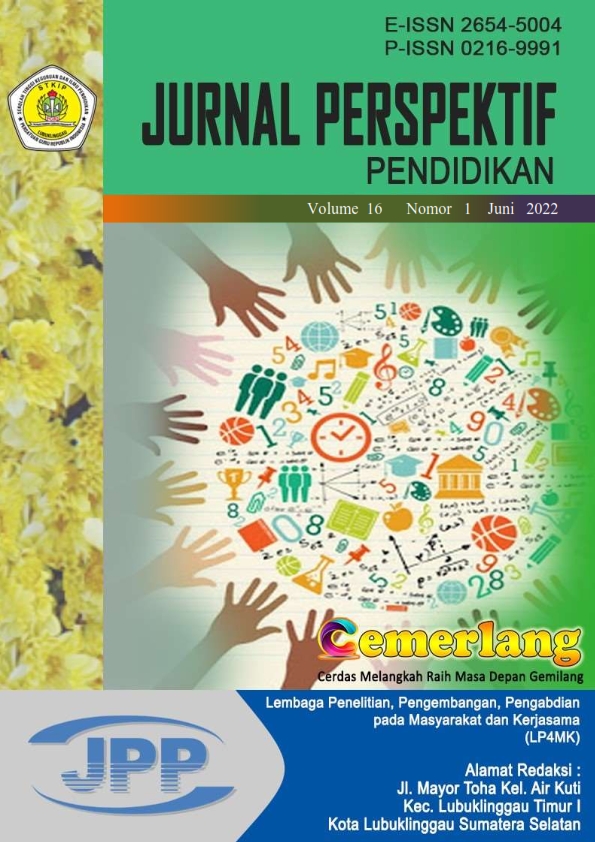 This work is licensed under a Creative Commons Attribution-NonCommercial-ShareAlike 4.0 International License.

Jurnal Perspektif Pendidikan by https://www.ojs.stkippgri-lubuklinggau.ac.id/index.php/JPP is licensed under a Creative Commons Attribution-NonCommercial-ShareAlike 4.0 International License.