PENYUSUNAN NASKAH SOAL BESERTA KISI-KISI DAN KARTU SOAL DI SMA NEGERI 7 LUBUKLINGGAU
PENYUSUNAN NASKAH SOAL BESERTA KISI-KISI DAN KARTU SOAL DI SMA NEGERI 7 LUBUKLINGGAU
Rudi Erwandi

Universitas PGRI Silampari

Satinem Satinem

Universitas PGRI Silampari

Merti Triyanti

Universitas PGRI Silampari

Juwati Juwati

Universitas PGRI Silampari
Abstract
This community service program is motivated by the teacher's obligation to prepare learning tools including question scripts that will be given to students. The preparation of the question script must be accompanied by a question grid and question card so that the questions used are in accordance with the criteria. Therefore, the PGRI Silampari University service team carried out the preparation of the question script along with the grid and question cards. Question papers, grids and question cards are used to give tests to students according to level. The output target to be achieved by the proposing team is the improvement of values, knowledge and publications. In its implementation, it uses theoretical and practical methods starting with the preparation stage, providing material and the practice of preparing question texts, question grids and question cards.
References
Departemen Pendidikan Nasional. (2012). Sosialisasi KTSP. Jakarta. Departemen Pendidikan Nasional.
Koesnandar. (2008). Pengembangan Bahan Ajar Berbasis Web. http//web teknologi pendidikan net/http/teknologi pendidikan net/2008/02/12/ Pengembangan Bahan Ajar Berbasis web.

Prastowo, A. (2013). Panduan Kreatif Membuat Bahan Ajar Inovatif. Yogyakarta: Diva Press.
Ratna. (1991). Teori-Teori Belajar. Jakarta: Erlangga.
Sumiati dan Asra. (2007) Metode Pembelajaran. Jakarta Rajawali Pers.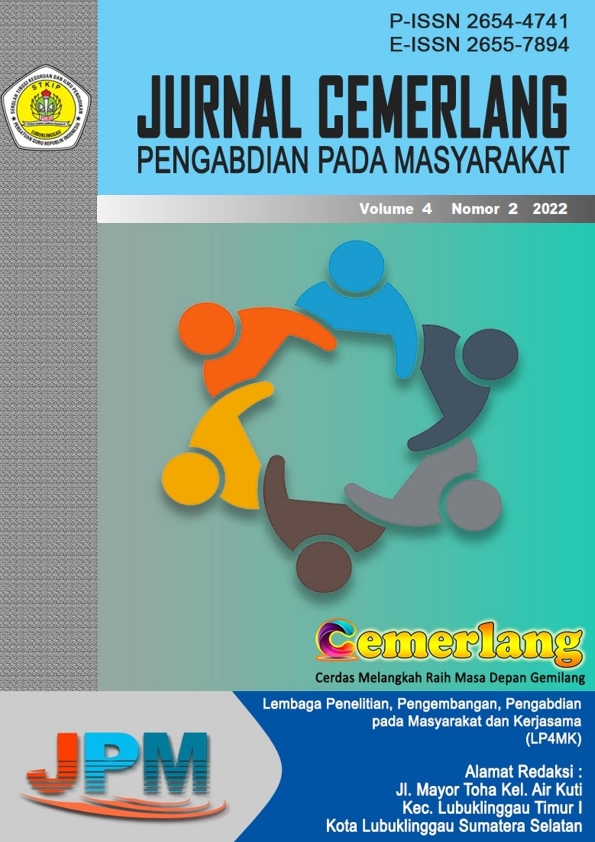 Jurnal Pengabdian Masyarakat by http://ojs.stkippgri-lubuklinggau.ac.id/index.php/JPM is licensed under a Creative Commons Attribution-ShareAlike 4.0 International License.